Six members of Bangladeshi separatist group held in India's Mizoram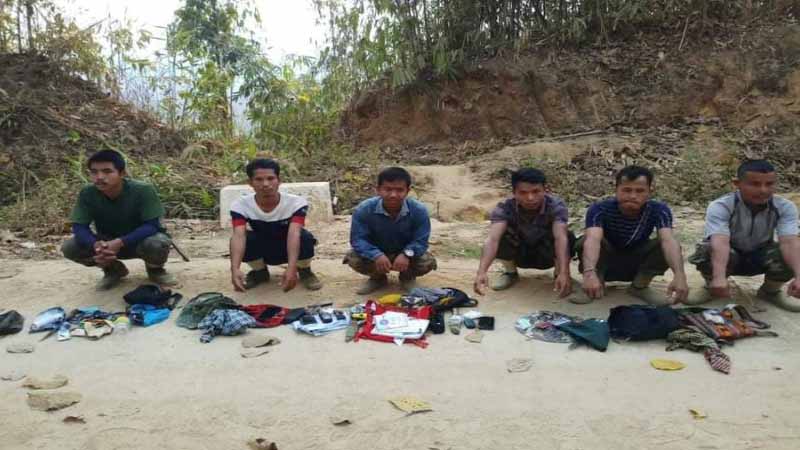 News Desk:
Six suspected members of a Bangladeshi separatist group have been arrested from Parva under Lawngtlai district in the Indian state of Mizoram.
They were arrested in possession of illegal equipment and a letter linked to the group, said India's Border Security Force or BSF, who arrested them last week.
The arrested were identified as Ramdindliyan, 20, Sangkhu Bawm, 32, Liyan Bavisang, Lalsangrem Bawm, 34, Lalram Maui, 45, and Nunsang Bawm, 39 – all hailing from Bandarban's Ruma sub-district.
Earlier on Thursday, March 24, around 6:00am, BSF troops of 199 Bn BSF arrested them from Mizoram's Prava area bordering Rangamati's Bilaichhari sub-district – suspecting that they are members of Kuki-Chin National Army, an armed group in Bangladesh's Chittagong Hill Tracts or CHT.
The local BSF commander said they recovered some illegal equipment, including commando knives, and a letter with the seals of the president and the chief of staff of the Kuki-Chin National Army.
After the necessary investigation, he said, they have handed over the arrested to Lawngtlai police.
Sources said Kuki-Chin National Development Organisation or KNDO came into being in Bandarban's Ruma sub-district in 2008. Some 13 years later in 2021, the KNDO emerged as an armed group – Kuki-Chin National Army.
Seeking anonymity, local people and public representatives said the Kuki-Chin National Front or KNF is a goalless group. It has earned a bad name among people due to extortion and other antisocial activities.
At present the KNF has no acceptance with people, turning out to be an isolated group in the hill tracts, they added.