Slain militant's 'grave' located, no body found: RAB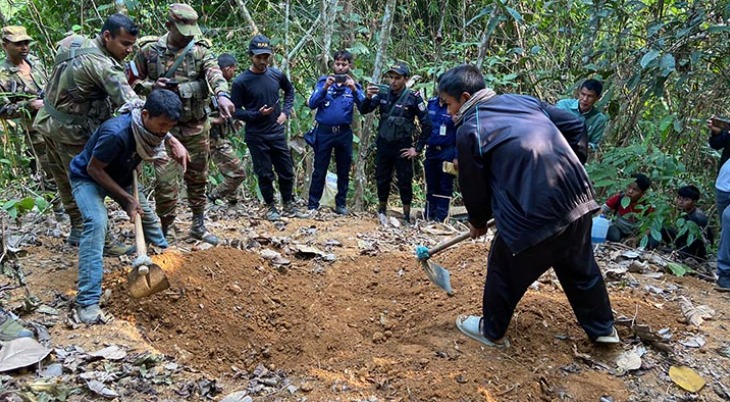 NEWS DESK
Police have not found any dead body in the "grave of an Islamist militant" who was said to have been killed in Bandarban because of a fight between members of Jamatul Ansar Fil Hindal Sharqiya.
Authorities discovered the "grave" in the remote hills of Muangmual Para in Ruma after suspects who had been arrested told them where it was.
Mamun Shibli, chief executive of the Ruma Upazila administration, said they went to dig up the body on Monday (Jan 16, 2023) but found only a few pieces of evidence, including a blanket.
"By looking at the grave, it became obvious that the 'grave' was dug recently," said Alamgir Hossain, chief of Ruma Police Station.
Alamgir said the arrestees might have lied to them for some reason, the body was buried somewhere else, or the militants shifted it after learning that the body would be dug up.
RAB's Spokesman, Commander Khandaker Al Moin, identified the militant who was allegedly killed as Aminul Islam alias Al Amin.
The elite force on Thursday announced the arrest of five alleged members of Jamatul Ansar in the remote hills of Roangchhari and Thanchi.
The suspects allegedly received training at the camps of Kuki-Chin National Front, a tribal separatist group, in the hill tracts.