Top Arsa commander arrested in Ukhiya Rohingya camp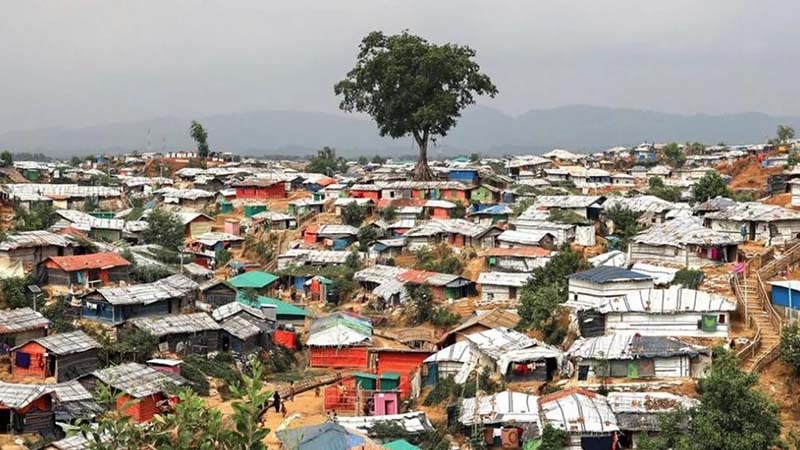 COX'S BAZAR CORRESPONDENT
The Armed Police Battalion (APBn) has arrested a top commander of Myanmar's armed organization, Arakan Rohingya Salvation Army (Arsa), in a raid conducted in the Ukhiya Rohingya camp in Cox's Bazar. Mohammad Jubair was detained along with weapons, bullets, and Waikiki set chargers.
According to Additional Deputy Inspector General (ADIG) Mohammad Amir Zafar, the commander of 8 APBn, the operation was carried out in the early hours of Wednesday (May 10) at Balukhali No. 19 Rohingya shelter camp in Palangkhali Union of Ukhiya Upazila.
Arsaterrorist Jubair has been involved in several crimes, including murder, kidnapping, and domination, with several cases against him.
8 APBn's Commander Zafar revealed that APBN conducted the special operation upon receiving news that some armed individuals had gathered in Balukhali No. 19 Rohingya shelter camp in the morning with the intention of committing a crime. Upon reaching the spot, the miscreants started firing after realizing the presence of APBN members. In self-defence, APBN members fired back, and during the commotion, the miscreants managed to flee with the exception of Jubair.
The APBN team recovered four country-made guns, 32 bullets, one empty shell, and one Waikiki set charger from the spot.
ADIG Zafar added, "Mohammad Jubair is a top commander of Arsa. He is involved in various crimes committed around the Rohingya refugee camp. There are several cases against him for his alleged involvement in these crimes."