Trawler carrying 150 Rohingyas returns to Cox's Bazar after days adrift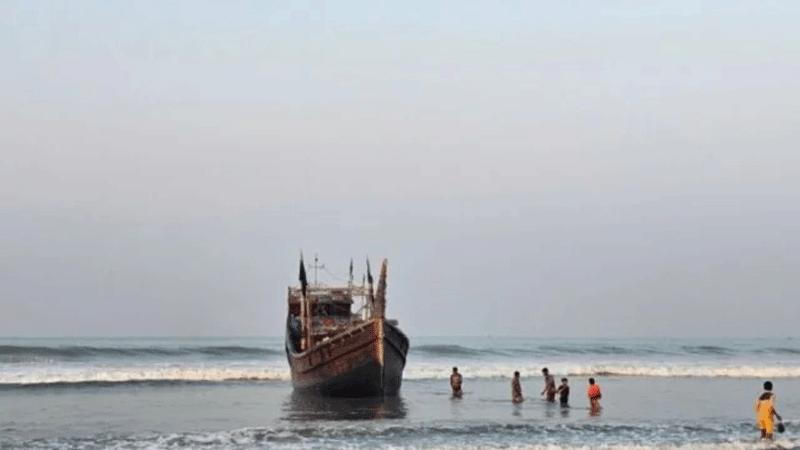 A trawler carrying over 100 Rohingyas, which had been adrift for three days as they attempted to sail to Malaysia, reached Teknaf upazila of Cox's Bazar on Thursday morning.
Local fishermen pulled in the trawler floating in the Bay of Bengal loaded with Rohingya to Teknaf beach.
There were 150 Rohingyas including children and women on the trawler.
After spending three days at sea, the Rohingyas got off the trawler while crying.
Local union parishad Member Zaheer Ahmad said upon seeing the trawler floating in the sea, local fishermen pulled it to the shore.
The passengers are residents of different Rohingya camps. Most of them are women and children.
Several of them were sitting on the road and crying with small children on Marine Drive in Maheshkhali of Teknaf. Many were thinking of going back to their camps in human haulers.
One of them, Hamid Hossain, said conditions in the camps are very hostile, and murders take place every day.
"That is why I left my camp to go to Malaysia by sea hoping for a better life. There were about 150 of us on the trawler. There are six members of my family including my baby," he said.
Hamid said after leaving the camp, they stayed for five days on a hill in Teknaf with the help of brokers. From there, they took a small boat and boarded the trawler in the sea.
Then the sailors wandered the sea for three days, saying that they were going to Indonesia. At one point, when they came close to the shore, the boatmen jumped off and ran away. Later two small boats pulled their trawler to the shore, according to Hamid.
He said they were en route to Indonesia to go to Malaysia.
When asked about the issue, Mohammad Zobair Syed, officer-in-charge of Teknaf model police station, said the coast guard is looking into the matter.
Teknaf Coast Guard Station Officer Lieutenant Commander Soleman Kabir said they have been informed of the matter.