Two ARSA commanders held with firearms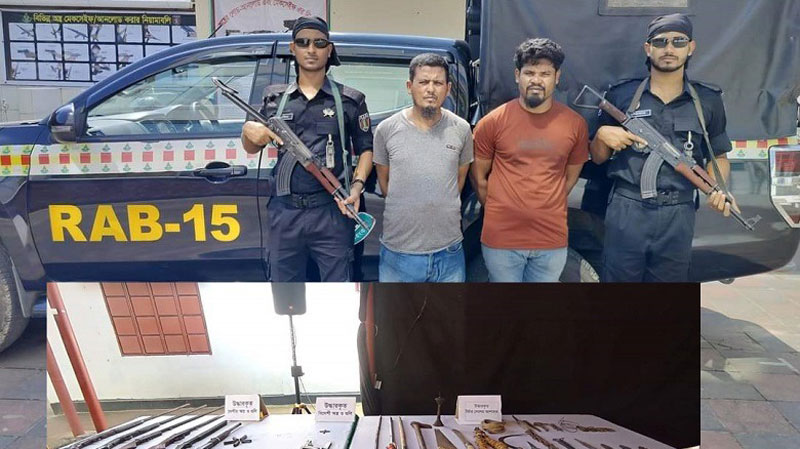 NEWS DESK
Rapid Action Battalion (RAB) in a drive arrested two members of Arakan Rohingya Salvation Army (ARSA), including a top commander involved in the murder of a DGFI official.
They were arrested on Thursday (October 26) during a raid in the hilly areas adjacent to the Rohingya camp at Ukhiya in Cox's Bazar, said RAB-15 Cox's Bazar Battalion Assistant Director (Legal and Media) Additional Superintendent of Police Md Abu Salam Chowdhury.
The arrestees were identified as Md Osman Prakash Salman Murobbi, 50, head of ARSA's Ulama Body and Torture Cell and Md Yunus, 24, torture cell member of the organisation.
During the raid, RAB found a secret torture cell operated by ARSA in the hills adjacent to Madhurchara Jame Mosque in Ward No. 6 of Rajapalang Union of Ukhiya.
One of the arrestees, Md Osman, was allegedly involved in the murder of a DGFI official during a joint anti-drug operation and was absconding.
He was also involved in multiple murders in the area adjacent to the Rohingya camp, the RAB official said.
In a press release issued last night, Abu Salam Chowdhury said that after receiving a tip-off, RAB raided the deep mountainous area adjacent to the Rohingya camp in Ukhiya.
During the operation, one 9mm foreign pistol, four one shooter guns, two LG guns, and  9 rounds of ammunition were seized from the arrested.