Two killed in gunfight in Cox's Bazar Rohingya camp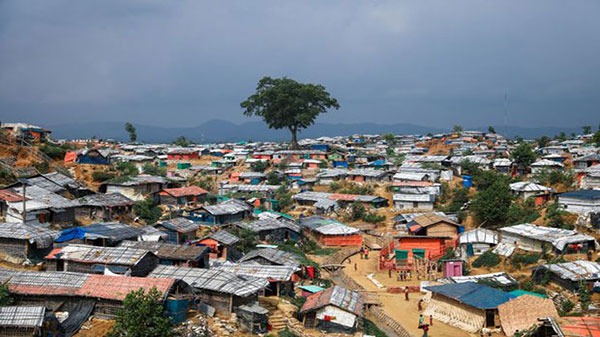 NEWS DESK
Two Rohingya men, including a central Arakan Rohingya Salvation Army (Arsa) commander, were killed in a separate clash and shootout between the Arsa and an anti-Arsa group at the Ukhiya Rohingya camp in Cox's Bazar.
The incident took place at the Ukhiya camp number 5 and 2-East Rohingya camp on Monday morning.
The two deceased are Sakibul Hasan Prakash Sanaullah, 27, son of Mir Ahmed from and Ahmad Hossain, 36, son of Abdul Goffur.
Ukhiya police station Officer-in-Charge (OC) Sheikh Mohammad Ali said that on Monday morning, two separate clashes and gunfire incidents took place between Arsa and an anti-Arsa group in the Kutupalong 2 East and Rohingya camp no 5 in Ukhiya.
"In this incident, two Arsa criminals were killed. The clash arose from disputes over dominance in the camp," he said.
"Upon receiving the news, several teams of APBn police were dispatched to the incident site, forcing the criminals to flee. Two bodies were recovered from the scene," he added.
Sheikh Mohammad Ali further said that the deceased Sanaullah was a top criminal of Arsa in the Kutupalong camp.
"He was involved in various murder cases in camp 2-East, including the killings of Abul Kalam Majhi, Taher Majhi, and a murder attempt on Amin Majhi. Furthermore, a year ago, Sanaullah was linked to an incident where he wounded APBn member Md Saidul Islam," he said.
"Following the incident, security at the camp has been intensified, and operations are underway to arrest those involved. The recovered bodies have been sent to the district hospital for post-mortem," he added.
On the other hand, APBn-16 chief Additional DIG Mohammad Hasan Bari Noor said on Monday that, a team of the APBn-16 arrested three Rohingya criminals during a raid in block C5 of the Teknaf's Unchiprang Rohingya camp.
At the time, three local firearms and 146 fresh rounds were recovered from them, he said.
The arrested Rohingyas were identified as Kamal Hossain, son of Monir Ahmad, Azizur Rahman, son of Abdur Shukkur, and Mujibur Rahman, son of Tajimullah.
The additional DIG further said that all three arrestees are members of the Rohingya Solidarity Organization (RSO) and legal action is being taken against them.