UN Assistant Secretary-General Kanni Wignaraja visits Ukhiya Rohingya camp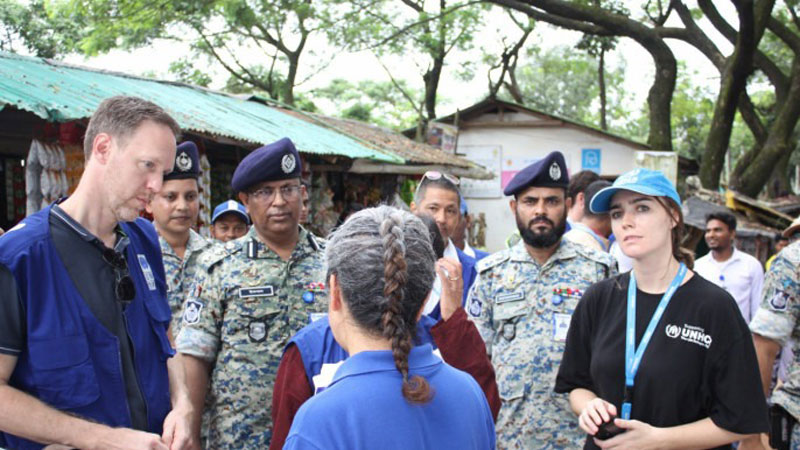 NEWS DESK
A six-member delegation, including the UN Assistant Secretary-General and UNDP Regional Director for Asia Pacific, Kanni Vignarazar, visited the Rohingya camp at Ukhiya in Cox's Bazar on Monday.
During this visit, they observed various activities of the donor organisation.
The delegation reached Block-L/17 of Rohingya Camp-18 in Ukhiya around 10:00 am on Monday. Later, they visited the Rohingya Cultural Memory Centre at IMO.
During the visit, an IMO official presented the delegation with details by displaying various items bearing testimony to the history and heritage of the Rohingyas preserved inside the Rohingya Cultural Memory Centre.
A group of Rohingya artists played musical instruments for the delegation and sang a Rohingya anthem (Tarana). They then visited the Model Village under the UNCR-NGO Forum and BRAC Dhara-run pilot project located in Camp 17 H/71 block and visited the ISO SET bio-diversity nurseries. During this time, BRAC officials briefed them on how waste material is paid for in the project.
Later, NGO officials gave a detailed briefing to the delegation on how the Rohingyas collect rations through smart cards. Later, they paid a courtesy call on the CIC at the CIC office of Camp-4 Extension.
US Assistant Secretary-General Kanni Vignarazar spoke to some of the Rohingyas who came to WFP's e-voucher shop and inquired about them. Later, the six-member delegation returned to Cox's Bazar around 3:00 pm. Refugee Relief and Repatriation Commissioner Mizanur Rahman and Cox's Bazar Deputy Commissioner Muhammad Shaheen Imran were present during the visit.
"During this time, the delegation observed various activities of the donor organisation. Later, they spoke to some Rohingyas who had come to the WFP's e-voucher shop for some time," said Mizanur.