UN urges humane treatment of captured Myanmar troops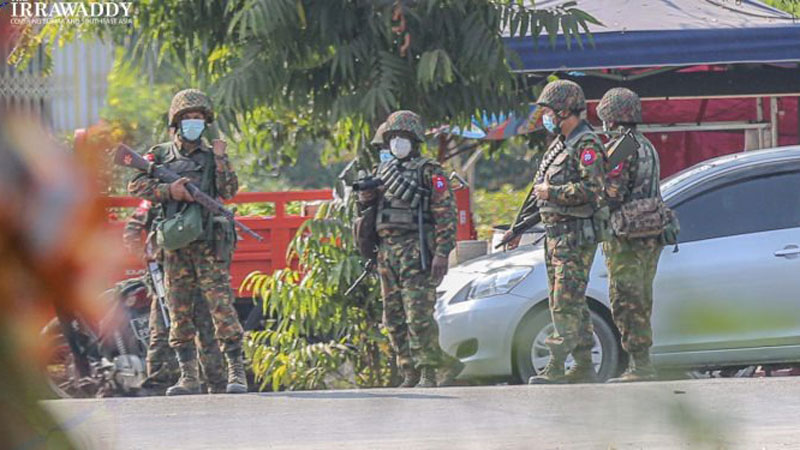 The United Nations said Friday that Myanmar soldiers captured amid an offensive launched by anti-military armed groups against the junta must be treated humanely, AFP reports.
The UN rights office said it was closely monitoring developments in Myanmar, where fighting has escalated since several ethnic minority armed groups launched attacks on the military in the north late last month.
Pointing to reports that several hundred soldiers had chosen to lay down their weapons, spokesman Jeremy Laurence insisted that "reprisals are absolutely forbidden".
"Individual soldiers are not collectively responsible for crimes and human rights violations that have been committed by the military," he told reporters in Geneva.
"It is essential that all those captured are treated humanely."
The Myanmar National Democratic Alliance Army (MNDAA), Ta'ang National Liberation Army (TNLA) and Arakan Army (AA) launched attacks near the northern border with China on October 27.
They are battling Myanmar's military, which ousted civilian leader Daw Aung San Suu Kyi from power in a February 2021 putsch.
And this week, the AA launched fresh attacks on the military in western Rakhine state, while anti-junta fighters in Kayah state on the Thai border were battling the military near state capital Loikaw.
At least 75 civilians including children have been killed and 94 people wounded in the fighting, while more than 200,000 people have been displaced by the upsurge in violence, according to reports cited by the UN.
"Amidst rapidly changing circumstances on the ground, it is imperative that all parties strictly respect international human rights law and international humanitarian law, particularly to protect civilians," Laurence said.
"Commanders must make this clear to armed personnel under their direction and control."
Laurence said the UN rights office was particularly alarmed by renewed fighting between the military and AA in Rakhine State after an informal 12-month ceasefire.
This "poses grave risks to both the ethnic Rakhine and Rohingya communities", he warned.
"We are concerned, given past patterns, that as the military loses ground on multiple fronts, its response risks unleashing an even greater force," Laurence said.
He warned of the danger of further use of "indiscriminate and disproportionate air strikes and artillery barrages" by the junta, pointing out that over the past two years, the rights office had "documented the severe impact of such tactics on the civilian population".
The UN, he said, was calling again on all member states, and especially those with influence over the warring parties "to intervene decisively with intensified efforts to end this crisis and protect the civilian population".
More pressure was needed "for the peaceful transfer of power to a representative, civilian government", he said.