UNHCR welcomes South Korea's contribution of $1m for Rohingya refugees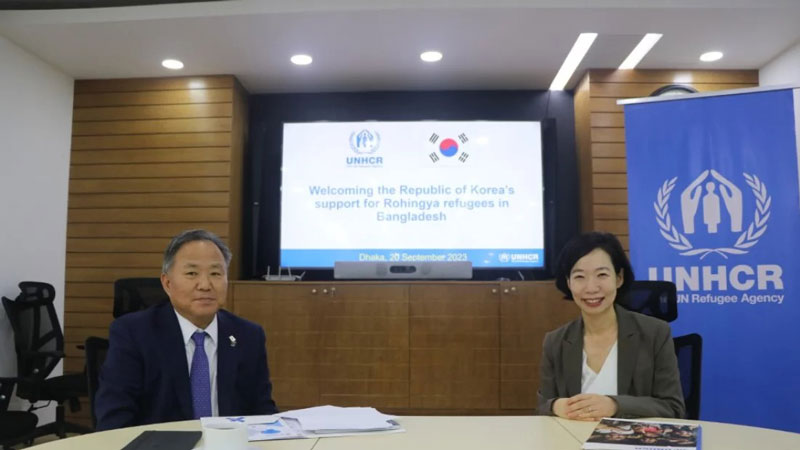 NEWS DESK
UNHCR, the UN Refugee Agency, welcomes the generous contribution of one million US dollars from the Republic of Korea.
This important contribution strengthens UNHCR's efforts to provide protection and humanitarian assistance for Rohingya refugees in Bangladesh, said a press release on Wednesday.
"Having passed the six-year mark since the latest exodus from Myanmar in August 2017, the Rohingya crisis in Bangladesh is a protracted situation, with almost one million Rohingya refugees in Bangladesh still reliant on humanitarian assistance for their daily needs," said Soo-Jin Rhee, UNHCR Deputy Representative.
"With this additional support from the Government and people of the Republic of Korea, UNHCR will be able to ensure the dignity and well-being of the refugees while they stay in Bangladesh. The Republic of Korea's commitment is all the more precious as we now face a significant reduction in financial support from the international community," she added.
"Since 2017, the government of the Republic of Korea has provided USD three to five million annually to the Rohingyas and their host communities in Bangladesh, in close cooperation with the Government of Bangladesh and international organizations. Korea appreciates UNHCR's humanitarian activity of providing liquefied petroleum gas (LPG) as cleaner energy", said Park Young-sik, ambassador of the Republic of Korea to Bangladesh.
Since spearheading LPG distribution in 2018 as an alternative to cooking with firewood collected from forests, UNHCR has helped reverse environmental degradation in and around the camps, while contributing to refugees' food security, nutrition, and health. LPG usage also decreases protection risks for refugee women and girls who no longer need to collect wood, and frees up time for children to attend school.
Six years after being forced to flee violence in Myanmar, some 930,000 Rohingya refugees are currently hosted in densely populated camps in Cox's Bazar, with an additional 30,000 refugees residing on Bhasan Char.