UPDF firing, arsons mar half-day blockade in Khagrachhari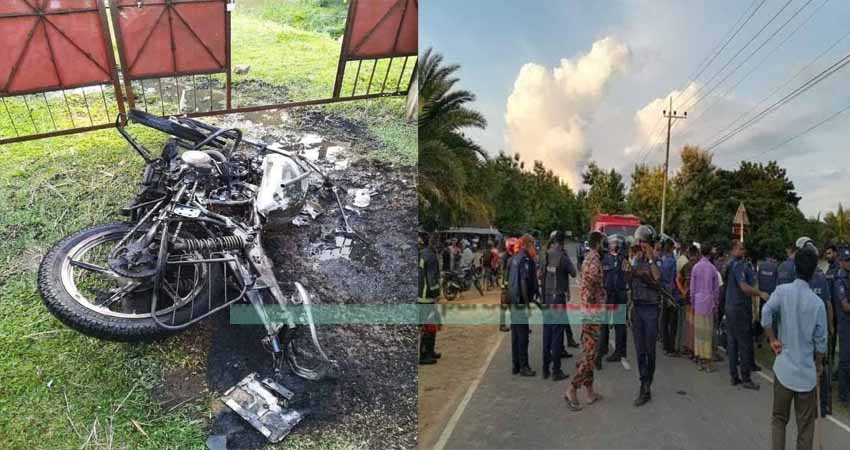 GUIMARA CORRESPONDENT
In Khagrachhari, members of the UPDF (Prasit) again opened fire and set motorcycle on fire after a half-hour road blockade called by the goup in protest against the killing of Angthai Marma alias Agun.
On Sunday (Sept 4, 2022) at around 5 pm, 15-16 UPDF members fired five rounds of bullets at motorcycles in the area of Bailachari School Para of Guimara upazila. At that time, they set fire to two motorcycles.
It is learned that the owner of a motorcycle is Anwar Hossain of Gachchabil area of Manikchhari upazila and the owner of the other motorcycle is Amir Hossain of Budong para of Guimara upazila.
Officer-in-Charge (OC) of Guimara Police Station said the terrorists fled before the patrolling police reached the spot after hearing gunshots. Legal action will be taken in this regard.
It is to be noted that on Friday (September 2) at around 10:45 am, the local police recovered the bullet-ridden body of Angthoi Marma alias Agun from Dewan Para area of Guimara.
Blaming the rivals for the killing, the UPDF, led by Prasit Bikash Khisa, claimed that Mr Agun was a leader of the group's.
Angry over the incident, supporters of the UPDF torched trucks on Ramgarh and Guimara roads on Friday afternoon.
The next day, UPDF leaders called a half-day blockade across Khagrachhari over the killing for Sunday.
Locals have said supporters of the blockade carried out sabotage even after the half-day blockade on Sunday.