World Refugee Day held at Rohingya camp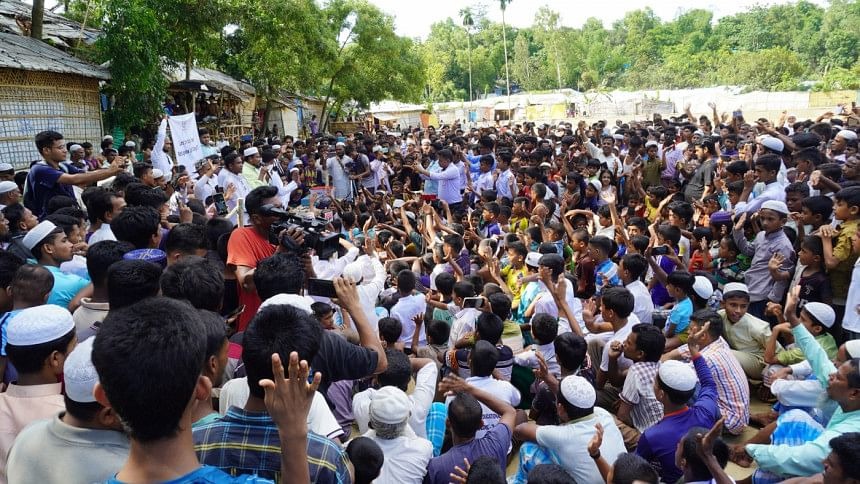 NEWS DESK
When Maulana Noor Hossain, a Rohingya Tarana (Rohingya singer), started singing his song that expressed their urge to return to Myanmar, hundreds of other Rohingyas joined him in the chorus, raising their hands.
While they were singing tears rolled down their cheeks and their voices choked, reminiscing the sweet past they left in Rakhine of Myanmar.
Noor Hossain sang at a gathering this evening at Lambasia field under Kutupalong of Ukhiya upazila in Cox's Bazar, joined by hundreds of Rohingyas to mark the World Refugee Day, reports our Cox's Bazar staff correspondent.
The forcibly displaced Myanmar National Representative Committee organised the event with the theme, "End Refugee Day for Rohingyas".
Mohammad Kamal Hossain, a leader of the organisation, said they have long been suffering as refugees but don't want our children to go through the same ordeal.
"We want to return to Myanmar with citizenship. We don't want a refugee life for our children. We want to observe the day as 'End Refugee Day'," Kamal said.
Another leader Master Mohammad Rafique said they want to return to their ancestral land as soon as possible.
Some speakers said, "Don't reduce food budget, there is no opportunity to survive in the camp without ration."