Bangladeshi killed in BSF firing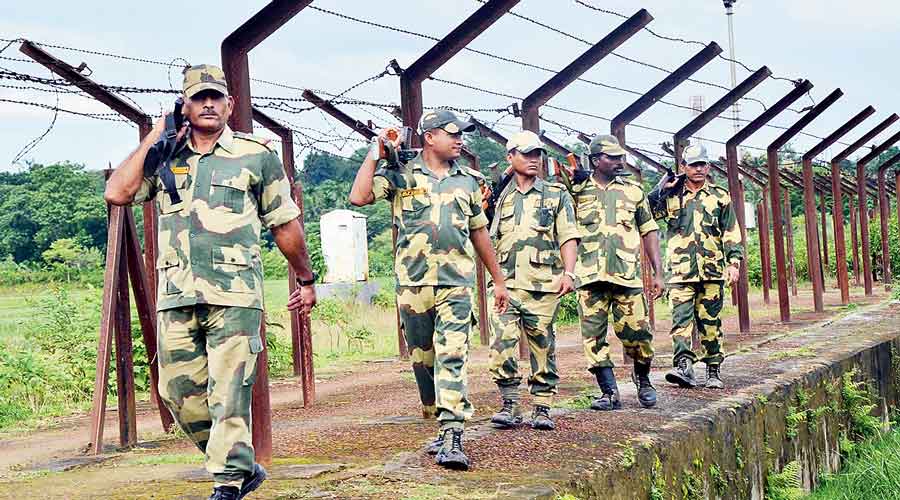 An alleged Bangladeshi infiltrator died when a Border Security Force jawan opened fire on the India-Bangladesh frontier near Mathabhanga in Cooch Behar on Wednesday night, Telegraph India reports.
The youth and some others had allegedly infiltrated India by cutting a portion of the border fence when the firing occurred. One of his aides, also a Bangladeshi national, was injured when residents of Mathabhanga's Tetulchera village caught him and beat him up. He was rescued by the BSF and is hospitalised.
The deceased, police said, is Rejaul Kareem, 35, while the injured is Jumman Babu, 29. Both are residents of Lalmonirhat district of Bangladesh.
"The BSF has filed a written complaint based on which a case has been registered. The body has been sent for post-mortem while the injured is under treatment at the hospital in Mathabhanga," said a police officer.
Police sources said that around 9.15pm on Wednesday, a BSF constable posted at the border spotted five-six people moving towards the Indian side through the Indo-Bangladesh Border (IBB) Road. He immediately raised an alert and ran to intercept the group. Reaching near them, he fired a round from his pump action gun (PAG) but the group kept moving ahead. Some residents of Tetulchera also reached there to apprehend the group.
The BSF constable and villagers gave the trespassers a chase. After some time, the constable reached a bamboo plantation. The intruders, who were hiding there, attacked him and tried to snatch his weapon. The constable fired another round in defence from his PAG and the bullet hit one of the youths, Kareem, on his waist. He succumbed on the spot.
Tetulchera villagers chased other members of the group. Residents of adjoining areas like Bhogramguri and Premerdanga joined them. Villagers managed to nab another group member, Jumman Babu, and started beating him up.
A BSF team from Parasar border outpost nearby reached the spot, rescued him and shifted him to the subdivisional hospital in Mathabhanga.
"As the BSF conducted a search, it was found that the group had breached the border fence and entered Indian territory. The body of the deceased person was recovered in due course," said a source.
A team from Mathabhanga police reached the spot and initiated a probe. They confirmed that both the dead and the injured are Bangladeshi nationals.
The police and the BSF are trying to find out whether remaining members of the group have fled to Bangladesh or are hiding at the bordering villages, sources said.