No criminal in Rohingya camps will be spared: IGP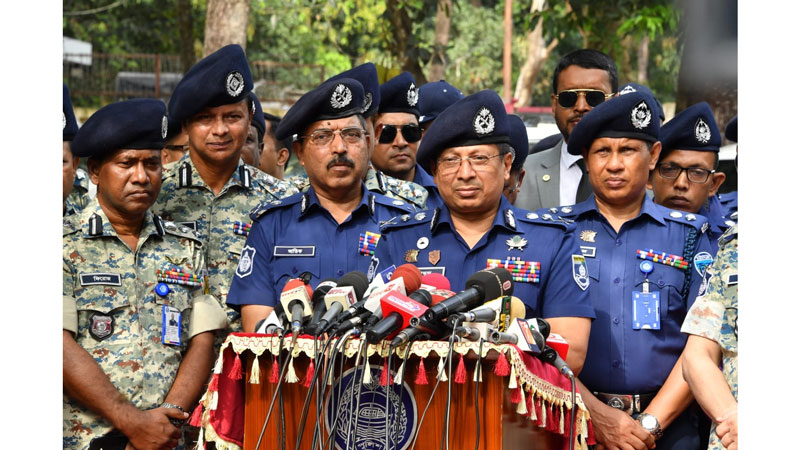 NEWS DESK
Inspector General of Police (IGP) Chowdhury Abdullah Al-Mamun today (May 3) said police will not spare any criminal in the Rohingya camps.
"The police have been working to maintain law and order in the Rohingya camps. Necessary instructions were given to police officials," he told journalists after visiting Rohingya camp at Ukhia in Cox's Bazar this morning.
"None is spared while organizing any event. Strict action will be taken against any person who is guilty and necessary action will be taken against anyone who tries to create chaos," the IGP said.
Regarding death of 10 fishermen in the Cox's Bazar trawler, he said, "As soon as I knew about the incident, I ordered the Range DIG to visit the spot."
Apart from this, the CID (Criminal Investigation department) and PBI (Police Bureau of Investigation) teams have been sent there, he added.
Police arrested the accused and took statement under the section 164, while investigation is ongoing, Mamun said.
He urged all to report any incident to the police as soon as possible and call the nearest police unit or national emergency service – 999.
The IGP said, "We are working with the policy of zero tolerance against militancy and terrorism, declared by the Prime Minister."
He said RAB (Rapid Action Battalion) conducted various operations against piracy and successfully worked to make the Sundarbans free from piracy as the Prime Minister declared the Sundarbans free from piracy.
He said pirates who surrendered and sought cooperation for returning to normal life were given the opportunity.
The IGP said the law enforcers have been conducting operations across the country against drugs and drug paddlers.
"Bangladesh's position in the International Global Terrorism Index has improved compared to its previous position," he added.
He said this success came as all have been working together.
Earlier, the IGP exchanged views with officers working in APBn in Cox's Bazar. He visited Ghonarpara Police Camp and planted a sapling there.
Additional IGP of APBn Dr Hasan ul Haider, Additional IGP Md Atiqul Islam, Chattogram Range DIG Md Anwar Hossain, Cox's Bazar District Superintendent Md Mahfuzul Islam and other officials were with the IGP.