Tambru Border: Govt to send zero-line Rohingyas to transit camp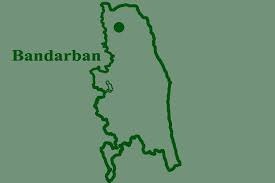 NEWS DESK
The government has taken an initiative to transfer 2,889 Rohingyas who fled into Bangladesh territory from a zero-line camp amid intense gunfights between two Myanmar armed groups near Bandarban's Tambru border.
According to officials concerned, the Rohingyas will be moved to Kutupalong transit camp in Cox's Bazar's Ukhiya upazila.
"A national taskforce — comprised of officials from the administration, law enforcement agencies, international organisations and other agencies involved — has already begun working to move the Rohingyas," said Refugee Relief and Repatriation Commissioner (RRRC) Mohammed Mizanur Rahman.
On the morning of January 18, a gunfight started between the Arakan Rohingya Salvation Army (ARSA) and the Rohingya Solidarity Organisation (RSO), both of which were attempting to seize control of the Konarpara Rohingya Camp.
The camp is situated on the zero line near the Tambru border and run by the International Committee of the Red Cross (ICRC).
The firing left one refugee dead and two children wounded, causing widespread panic among people.
The clash continued the next day, forcing many Rohingyas to flee into Bangladesh and seek refuge inside a school in Tambru and districts surrounding  Naikhongchhari upazila, according to Rohingyas and intelligence officials.
"A huge number of Rohingyas used to live on the zero line across the Bangladesh-Myanmar border," said Foreign Minister AK Abdul Momen at a programme in the capital yesterday.
"This area is extremely notorious; they were also involved in drug smuggling there. So, we have been considering dismantling it [the camp]."
As a consequence to the fighting among armed groups of Myanmar, some Rohingyas entered Bangladesh territory. Those Rohingyas were also carrying UNHCR cards, said the minister.
"But we will not take anyone officially. The good news is that the camp on the zero line is almost closed now. This is good for us. Let's see what happens," he said, addressing the event held at the Foreign Service Academy.
According to locals, the Konarpara camp housed 4,400 Rohingyas from 630 households. While many of them took shelter at Tambru, others remained untraced.
Contacted, Ghumdhum Union Parishad Chairman AKM Jahangir Aziz said, "We have already completed counting the Rohingyas who have taken shelter in Tambru, following the directives from higher authorities and with the support of the ICRC."
"We found 2,889Rohingyas from 357 families. The survey started on Sunday morning and finished yesterday evening. The activity was coordinated by a member of the union parishad," he added.
"The process of counting the Rohingyas has just been completed," Romen Sharma, upazila nirbahi officer of Naikhongchhari, told this correspondent. "Now we'll go through their details. Then, following directives of higher authorities, we will begin the process of relocation."
RRRC Mohammed Mizanur Rahman said, "We will verify whether these Rohingyas were previously registered with any Rohingya camp [in Cox's Bazar]. If somebody is already registered, he or she will be returned to their respective camp after vetting. Those who are not registered will be kept at a transit camp next to the Kutupalong Rohingya camp in Ukhiya.
"We will scrutinise whether any of the newcomers are involved in criminal activities. If we identify somebody involved in a crime, we will notify law enforcers."
Bangladesh now hosts over 1.2 million Rohingyas, who are housed in 33 refugee camps in Cox's Bazar's Ukhiya and Teknaf upazilas. Over 8 lakh Rohingyas entered Bangladesh in 2017 alone.