12 decisions made to secure Rohingya camps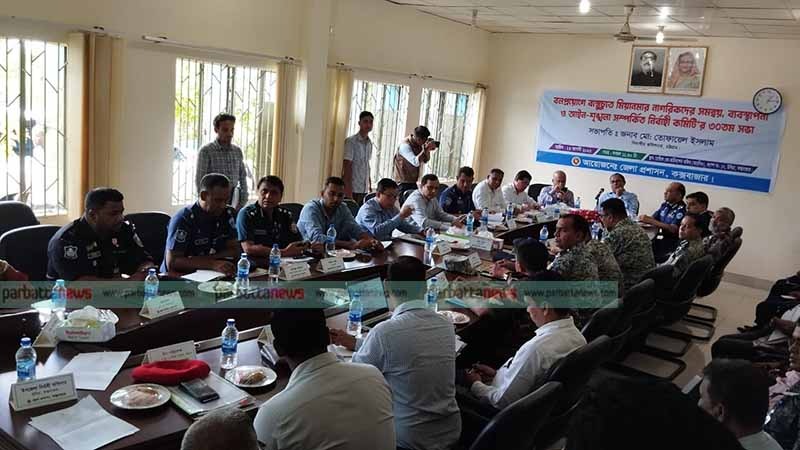 NAIKHONGCHARICORRESPODENT, COX'S BAZAR
In an executive meeting, a high-level delegation from Chittagong and Cox's Bazar has made 12 decisions, including the establishment of checkpoints at all access points, the conducting of mobile courts, and the implementation of stringent measures to prevent infiltration, all aimed at preventing the escape of Rohingyas from the camps.
The meeting, related to the management and law and order of Chittagong and Cox's Bazar, took place on Wednesday (August 23) at 1:00 p.m. at the RCO office situated in Block – A of Rohingya Refugee Camp-17. This camp hosts forcibly displaced Myanmar citizens at the Palangkhali BOP area of Ukhia Upazila, which borders Cox's Bazar Battalion (34 BGB).
Chittagong Divisional Commissioner Tofail Islam chaired the meeting.
During the meeting, discussions encompassed various issues, including criminal activities within the Rohingya camp, the release of terrorists on bail by the court, coordination between law enforcement forces and intelligence agencies to curtail terrorist activities within the FDMN camp, regular police patrols and special operations, boosting the activities of Majhids, monitoring criminal activities, increasing checkpoints to restrict the movement of ordinary FDMNs outside the camp, conducting mobile courts when necessary, heightening intelligence surveillance to prevent infiltrations during border tensions, communication between ARSA terrorists and local miscreants, and locating ARSA terrorists at zero points.
Attendees at this coordination meeting, focusing on law and order and security matters, included Noor Alam Mina, Deputy Inspector General of Chittagong Range; Mohammad Mizanur Rahman, Additional Secretary of Refugee Relief and Repatriation Commissioner; MSK Shaheen (Additional Director); Colonel Morshed Ahmed Chowdhury from Cox's Bazar DGFI; Colonel Md. Mehdi Hossain Kabir, BSP, SUP, BGBM, PSC, ISC, BGB Ramu Sector Commander; District Administrators from Cox's Bazar and Noakhali; Captains from the 8, 14, and 16 APBN; Superintendent of Police from Cox's Bazar; G-2 (Ops) 10 Infantry Division; Upazila Nirbahi Officer from Ukhia; Additional Director from Department of Narcotics Control (DNC); Additional Superintendent of Police from RAB-15, Cox's Bazar; and Deputy Director from Islamic Foundation in Cox's Bazar.