Another 950 Rohingyas to go to Bhasanchar in 17th phase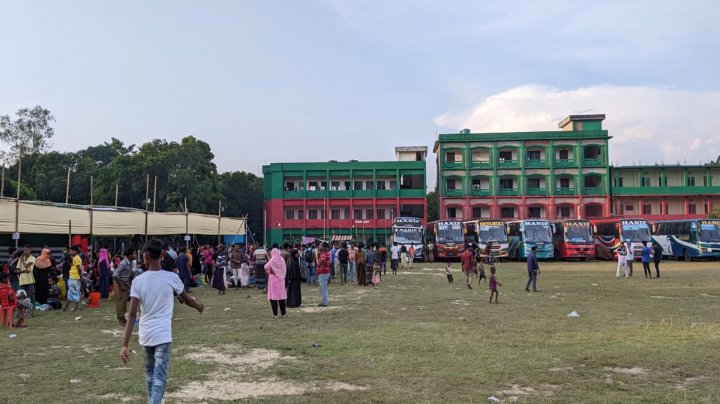 DESK REPORT
Another 960 Rohingyas are going to Bhasanchar in Noakhali from the camps of Ukhia and Teknaf in Cox's Bazar. After almost one and a half months, in the 17th phase on Sunday (October 16), 500 Rohingyas left for Chattogram from Ukhia's Degree College ground for Bhasanchar in five buses.
Another 450 Rohingyas are scheduled to leave for Chattogram for Bhasanchar on the same night. These Rohingyas will reach Bhasanchar by naval ship on Monday (October 17) morning.
Additional Refugee Relief and Repatriation Commissioner Mohammad Shamsu-Ddouza Nayan said, "After about one-and-a-half months, 950 Rohingyas from camps in Cox's Bazar are going to Bhasanchar. Meanwhile, 500 Rohingyas have left Ukhia for Chattogram for Bhasanchar. The rest will leave at night. "
Assistant Superintendent of Police (ASP) of 8-Armed Police Battalion (APBN) Md Faruk Ahmed said, "500 Rohingyas have left for Bhasanchar from Ukhia Degree College ground. Another 450 Rohingyas will leave at night. The interest of the Rohingyas has increased after hearing about a better life in Bhasanchar. '
Since December 2020, the government has sent more than 30,000 Rohingyas to Bhasanchar in 16 phases. Besides, 306 Rohingyas were rescued from the sea while trying to sneak into Malaysia illegally and were sent to Bhasanchar.
At least 800,000 Rohingyas fled to Bangladesh in the next few months after atrocities against them began in Rakhine on August 25, 2017 . A few hundred thousand more came before. At present, the number of Rohingyas registered in 34 refugee camps in Ukhia and Teknaf is 11.5 lakh. In the meantime, the government has taken a project to take the Rohingyas to Bhasanchar. The Bangladesh Navy was entrusted with the responsibility of implementing the project named Ashrayan-3.