Army Operation in Bandarban: Huge cache of weapons seized from KNF base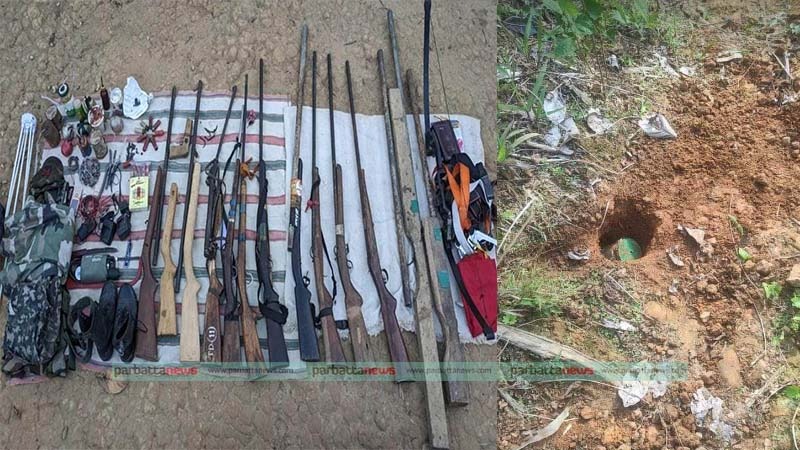 STAFF REPORTER
In a major operation against the separatist terrorist group 'Kuki-China National Front (KNF)' in Bandarban, the army conducted a raid on a KNF base, resulting in the recovery of a significant quantity of weapons, ammunition, and equipment.
The operation took place on Sunday and Monday (May 28 and 29) when army personnel targeted the KNF base in Thingdalte area of Ruma border. The officials confirmed that the army has taken control of the KNF camp.
According to army sources, the raid was carried out based on intelligence, and upon realizing the presence of the army, the members of KNF fled the camp. Subsequently, the army conducted a thorough search and confiscated a large quantity of firearms, ammunition, landmines, and bomb-making equipment, including Improvised Explosive Devices (IEDs) used by the KNF.
The army's operation against the KNF is currently ongoing, as confirmed by army sources.
Regarding this matter, Officer-in-Charge of Ruma Police Station Md. Alamgir Hossain stated that he heard about the army's recovery of several weapons from the KNF camp. However, the army did not inform the police about this development.
Meanwhile, due to security concerns arising from the KNF's activities and the ongoing army operation in Bandarban, 32 members of 11 Bawm families from Baklai Para in Ruma Upazila sought shelter in Thanchi Upazila Sadar on Monday morning.
Thanchi Upazila Nirbahi Officer Md. Abul Mansur mentioned that the affected Bawm families have been accommodated in the Model Government Primary School of Thanchi Upazila Sadar, with the arrangements made by the government. They will be able to stay there until conditions are favorable for their return to their villages.