OIC stands by Bangladesh in Rohingya repatriation, says Secy Gen Hissein Brahim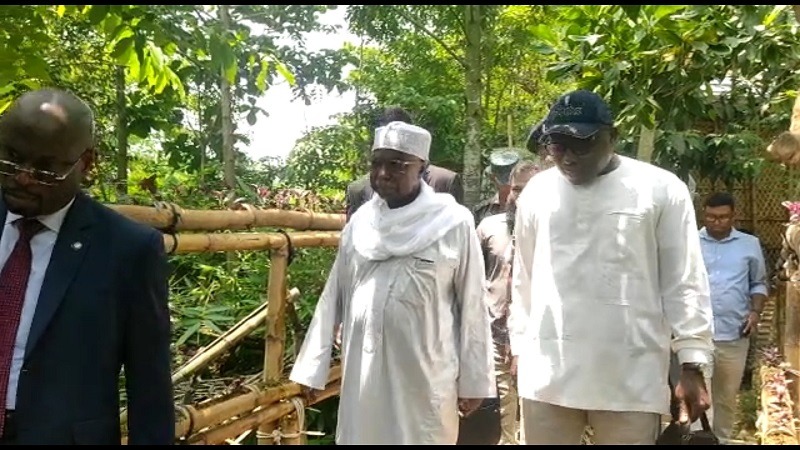 UKHIYA CORRESPONDENT, COX'S BAZAR
Hissein Brahim Taha, the Secretary General of the Organization of Islamic Cooperation (OIC), visited the Rohingya camp in Ukhia, Cox's Bazar.
Upon his arrival at the Madhurchhara 4 Extension Rohingya Camp on Monday morning (May 29), Refugee Relief and Repatriation Commissioner Mizanur Rahman greeted him with flowers.
During his visit, he observed various activities including the youth center, tree plantation project, and a human waste management project run by Rohingya youth.
Later, the head of the OIC, the world's second-largest organization, held a meeting with 25 Rohingya representatives in the conference room of the 4 Extension Camp.
The meeting included community leaders, youth, imams, and women's rights activists from different camps.
During the meeting, the Rohingya representatives sought support for their repatriation with citizenship and presented various opinions to the Secretary General of the OIC.
Expressing gratitude to Bangladesh for providing shelter to the Rohingyas, the OIC head stated that the Rohingya crisis remains a top priority for the organization, emphasizing that the Muslim world stands with the Rohingyas in their repatriation efforts.
Following the meeting, the Refugee Relief and Repatriation Commissioner stated that the OIC chief assured the Rohingyas that the organization's efforts to expedite the ongoing proceedings at the International Court of Justice are continuing.
The OIC Secretary General arrived in Dhaka for a 5-day visit on Saturday.
During his stay in Bangladesh, he already paid a courtesy call on the Prime Minister and the Foreign Minister.
Additionally, as the 12th Secretary General of the OIC, he will address the 35th convocation of the Islamic University of Technology in Dhaka.