Arsa's top terrorist and military commander arrested with cash and weapons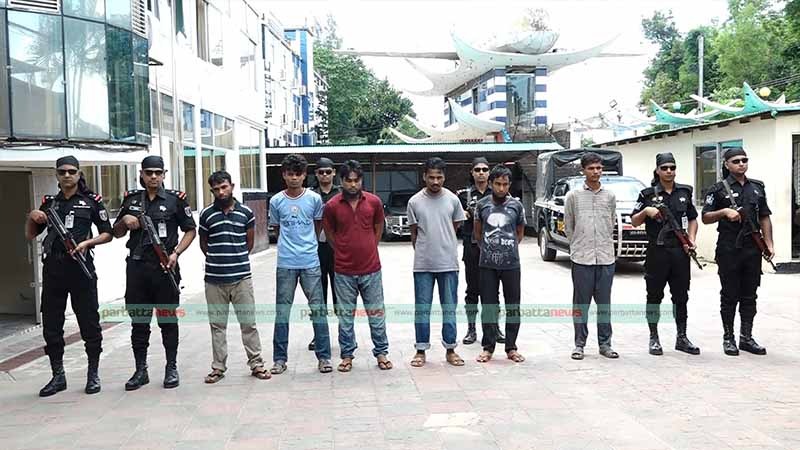 COX'S BAZAR CORRESPONDENT
A top terrorist and military commander of the Arakan Rohingya Salvation Army (Arsa), Hafez Mohammad, along with six Arsa members, was apprehended by the Rapid Action Battalion (RAB) in a major operation in Baharchhara-Shyamlapur area under Teknaf Police Station in Cox's Bazar.
The operation, conducted on Friday (July 21), resulted in the recovery of a significant amount of cash totaling 6.70 thousand taka and an assortment of local and foreign weapons.
The seized weapons included one 7.65 mm pistol, one foreign revolver, one shotgun, four indigenous LGs, 3 indigenous machetes, and various ammunition.  The RAB also discovered 70 thousand takas in the arrestees' possession.
According to Khandaker Al Moin, the director of RAB's law and media wing, Hafez Noor Mohammad was the leader of Arsa and one of the military commanders operating in the Kutupalong Refugee Camp, which houses forcibly displaced Myanmar citizens. Under his command, the terrorist group carried out various heinous activities, including murder, kidnapping, robbery, drug trafficking, extortion, and exerting control over the Kutupalong refugee camp and its vicinity.
RAB's operation was based on intelligence that Arsa members were smuggling weapons from neighboring countries through remote border areas. The successful operation led to the arrest of the high-profile Arsa commander and his associates.
During a press conference at the RAB-15 office in Cox's Bazar, Khandaker Al Moin revealed that Hafez Noor Mohammad was directly involved in the killing of DGFI officer, Air Force Squadron Leader Rizwan Rushdi, during an operation by joint forces at the Tumbru border of Naikshyongchari in November 2022.
RAB stated that Hafez Noor Mohammad possessed significant combat skills, holding a black belt in kung fu, and was an expert in making explosives. His role in training other Arsa members further highlighted his importance within the terrorist organization.
Noor Mohammad illegally entered Bangladesh in 2017 and was masquerading as a refugee in the Rohingya refugee camps. His arrest marks a significant blow to Arsa's activities in the region.