Around 50 Myanmar Junta Forces Killed in Three Days of Resistance Attacks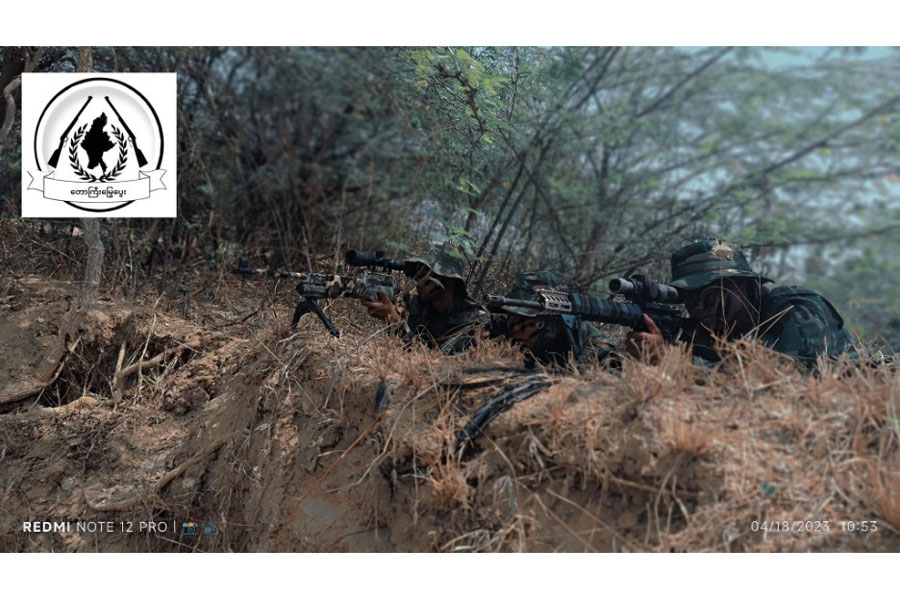 NEWS DESK
At least 49 Myanmar junta forces were killed in the last three days as People's Defense Forces (PDFs) escalated their attacks on regime targets across the country.
Incidents were reported in Sagaing, Magwe, Mandalay and Tanintharyi regions.
The Irrawaddy has collected the following reports of significant attacks from PDFs.
Some military casualties could not be independently verified.
Pro-junta militia base seized in Sagaing 
At least 12 junta soldiers and pro-regime Pyu Saw Htee militia members were killed in Taze Township, Sagaing Region on Tuesday when local PDF groups jointly raided a military training camp at Nar Daung Village, Taze PDF told the media.
During the raid, seven weapons and some ammunition were seized along with military equipment from the regime base.
Military column raiding villages ambushed in Sagaing
The PDF group People's Servant Revolution (Wetlet) claimed to have killed four regime forces and injured 10 others when it and other resistance groups jointly ambushed a military detachment of 70 troops including Pyu Saw Htee militia members in Wetlet Township, Sagaing Region on Sunday.
An hourlong clash broke out between two villages when the regime forces were ambushed with land mines. After being attacked, the regime forces torched houses in two nearby villages.
Other PDF groups also attacked 15 junta soldiers as they were traveling to reinforce regime troops in the clash area.
Regime forces killed in urban attack in Sagaing
Two junta forces were killed and one injured in Monywa town, Sagaing Region on Monday when two PDF groups coordinated a surprise attack on a military checkpoint at the entrance of the town, said Golden Eagle Force-Monywa, which was involved in the raid.
15 regime forces killed in resistance raid in Tanintharyi
At least 15 regime forces were killed and many others injured in Dawei Township, Tanintharyi Region on Sunday when eight local resistance groups jointly raided a military checkpoint in Maung Mal Shaung Village, claimed Dawei District PDF Battalion 1, which joined the attack.
In the clash, 17 resistance fighters suffered injuries, with one in critical condition.
On the same day, local PDF groups also attacked a military checkpoint in Mae Chaung Village, Dawei Township. In the attack, a PDF member was injured. Military casualties were unknown.
Seven junta troops killed in resistance ambush in Magwe
At least seven regime forces were killed in Kyaukhtu town in Magwe Region's Saw Township on Sunday when two ethnic Chin defense forces and Kyaukhtu PDF jointly attacked regime forces from Kyaukhtu artillery base, said Chin Defense Force-Kanpetlet, which joined the attack.
The regime forces were attacked by the combined resistance groups while traveling on the Kyaukhtu-Mindat Highway. A resistance fighter suffered minor injuries. Some military ammunition was seized from the regime forces, said CDF-Kanpetlet.
Military convoy ambushed in Magwe
Yesagyo PDF claimed to have killed two regime forces and injured seven others when it used a cluster of four land mines to ambush a military convoy of three vehicles and four motorbikes between two villages in Yesagyo Township, Magwe Region on Monday.
The convoy was ambushed while traveling to Pakhan Nge police outpost.
On the same day, Yesagyo PDF attacked regime forces from Pakhan Gyi police outpost who were traveling between two villages in the township. Some regime forces were injured in the attack.
All resistance forces retreated from the ambush site when regime forces responded with a large number of rounds and heavy explosives, the PDF group said.
Regime forces attacked in Magwe
At least six regime forces were killed and 28 injured in a series of six ambushes by resistance forces in Pauk and Myaing townships, Magwe Region on Monday, said Myaing PDF, which coordinated the attack.
The combined forces used land mines and drones to attack military detachments in the area.
Videos also show PDF drones dropping bombs on regime targets in villages.
In one case, PDF forces attacked regime forces fishing in Yaw Creek, killing four regime forces and injuring one, who escaped, said Myaing PDF.
Pro-regime military leader killed in Mandalay clash
Pro-junta Pyu Saw Htee militia leader Soe Yarzar was killed in a clash in Madaya Township, Mandalay Region on Tuesday when local resistance group Tawgyi Mwaybwe Force and the People's Police Force jointly attacked the militia group near a quarry, claimed the resistance group.
The military allows the militia group to extract stone in the area.