Bangladesh government believes in CHT people's equal rights: Minister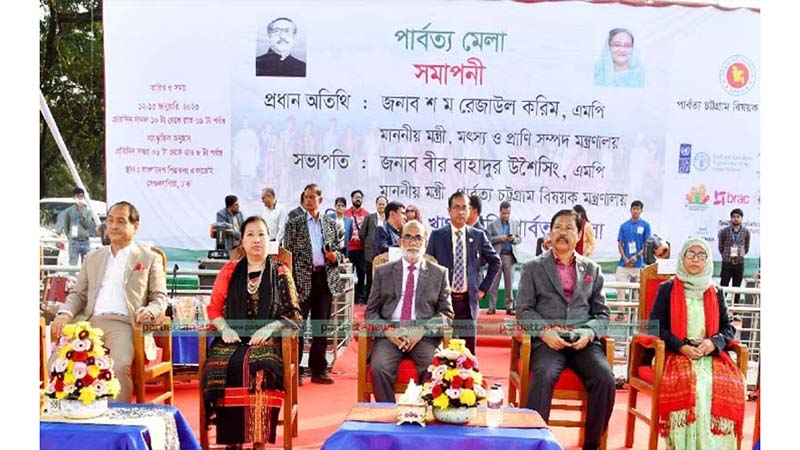 STAFF REPORTER
The government believes in the equal rights of people living in Chittagong Hill Tracts, Fisheries and Livestock Minister SM Rezaul Karim has said.
"Prime Minister Sheikh Hasina believes that the people in Chittagong Hill Tracts should constitutionally have the same rights as the Bengalis. In some cases, those falling behind should be given more opportunities to catch up," he said at the concluding ceremony of the four-day Parbatya Mela organized by Chittagong Hill Tracts Affairs Ministry at Bangladesh Shilpakala Academy from January 11 to 15, 2023.
"According to the constitution, all are equal in the eyes of the law. Besides, it has been stated in the constitution that special measures should be taken to bring the backward communities up to par. That is how the people in Chittagong Hill Tracts have been moving ahead and successfully playing their roles at different levels."
The fisheries minister also said that the people of the Chittagong Hill Tracts need to keep their own unique culture.
At the ceremony presided over by Chittagong Hill Tracts Affairs Minister Bir Bahadur Ushwe Sing, MP Basanti Chakma, CHT Development Board Chairman Nikhil Kumar Chakma, Rangamati Hill District Council Chairman Aung Sui Pru Chowdhury, and Khagrachhari Hill District Council Chairman Mangsuiproo Chowdhury spoke as special guests.
Chittagong Hill Tracts Affairs Ministry Secretary Mosammat Hamida Begum gave the welcome speech.