Conditions in Myanmar don't allow for safe return of Rohingyas: US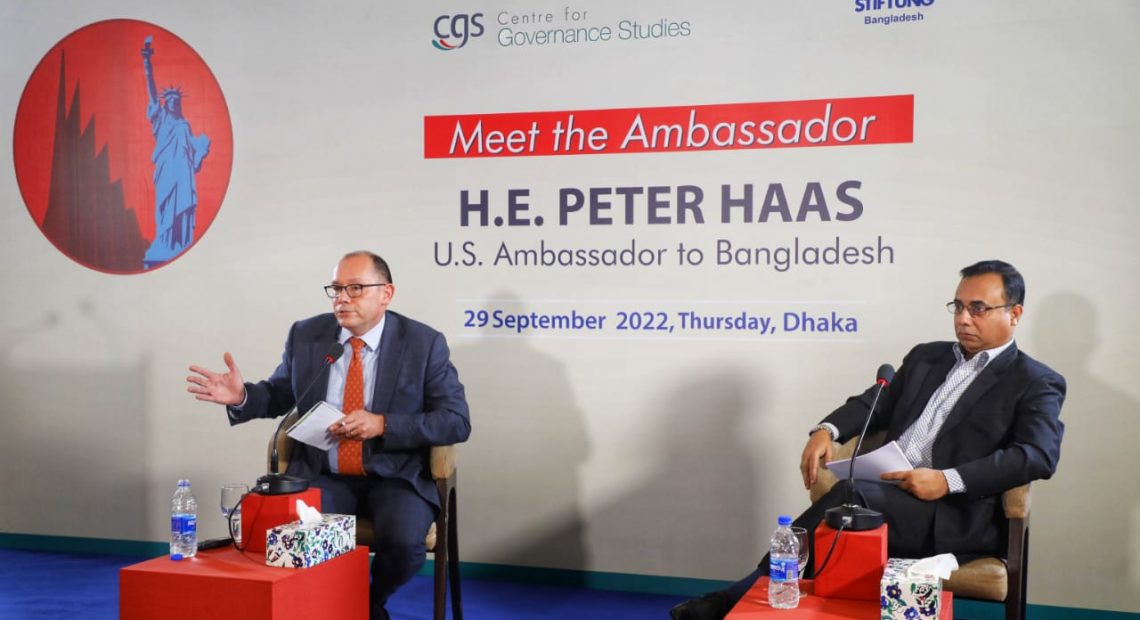 NEWS DESK
US Ambassador to Bangladesh Peter Haas has said conditions in Myanmar, especially after recent incidents, "unfortunately do not allow" for a safe, voluntary, dignified or sustainable return of the Rohingyas to their place of origin in Rakhine State.
"Sadly, it does not look like they will any time soon," he said while speaking at the "Meet the Ambassador" event organised by the Centre for Governance Studies (CGS) in collaboration with Friedrich-Ebert-Stiftung (FES) Bangladesh at a city hotel on Thursday (Sept 29).
Representatives of political parties, academics, former diplomats and business leaders were present.
CGS Chairman and chairman of the National River Protection Commission Manjur A Chowdhury, Resident Representatives of FES Bangladesh Felix Kobiz also spoke while the conversation was moderated by CGS Executive Director of CGS Zillur Rahman.
The US envoy said the United States is ready to work with Bangladesh to transition from an emergency response to a more sustainable one.
"We want to work with the government of Bangladesh and the rest of the international donor community to provide the refugees with better access to education, better opportunities to earn a livelihood, and greater security within the camps," he said.
He said Bangladesh meets international standards for humanitarian protection of the Rohingya refugees and continues to host them until a safe, voluntary, and dignified return to Myanmar is possible.
Haas mentioned that they recently passed a sobering milestone – the five-year anniversary of the genocide and crimes against humanity against Rohingya and their flight from Myaqnmar to Bangladesh.
During this time, he said, Bangladesh has shown incredible generosity and compassion in welcoming them into the country and giving them shelter.
"We are aware of the financial burden this has imposed on Bangladesh," he added.
In support of this incredible hospitality, ambassador Haas said, the United States announced last week that they will provide an additional $170 million to support Rohingya refugees and Bangladeshi host communities.
With this new funding, US' total assistance to the Rohingya refugee crisis has reached nearly $1.9 billion.
"We collaborated in this effort in the hope that Rohingya would soon be able to return to their native land in a safe and dignified manner," said ambassador Haas.
Bangladesh is now hosting over 1.1 million Rohingyas in Cox's Bazar and Bhasan Char island.