EU hasn't forgotten Rohingyas despite Rohingya crises: Gilmore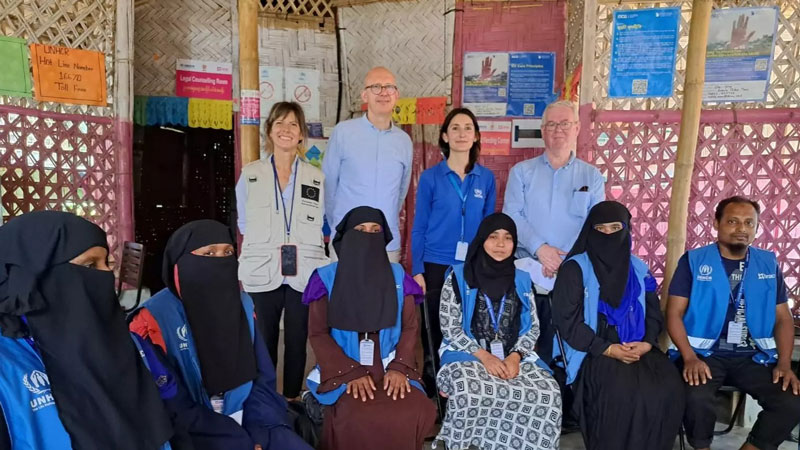 European Union's Special Representative for Human Rights Eamon Gilmore has said they will talk to other countries about what more needs to be done to resolve the Rohingya crisis, and they are particularly conscious about the reductions in food rations that are being made this year.
"It has to be resolved and it has to be resolved in Myanmar. The resolution of that crisis has to happen. And the circumstances need to be created whereby the Rohingya refugees in Bangladesh can voluntarily go home safely, with their rights respected and in full dignity," he told a local media in an exclusive interview.
Gilmore, who recently spent five days in Bangladesh, said the food rations for the Rohingya refugees in Cox's bazar have been cut from $12 to $10 (per person per month) and then $8 due to funding reductions by international donors.
He spent a full day in Cox's Bazar and met the Rohingyas who fled from Myanmar over the past six years, and heard their experiences and problems.
Gilmore, who also visited Rohingya camps four years ago, assured them that the European Union has not forgotten them despite the current crises around the world.
"We are working with countries in the neighbourhood and with the ASEAN countries," he said, appreciating the government of Bangladesh and the office of the Refugee, Relief and Repatriation Commissioner.
During his meeting with RRRC Mohammed Mizanur Rahman, Gilmore appreciated the government's and Rahman's "valiant" work. "I credit what the Bangladesh government and the RRRC have been doing," he said.
Gilmore said they are talking to other governments about what more needs to be done. "Because we recognize that there is a need for support. And we will continue to work on that. We will continue to keep it on the international agenda. "
Responding to a question on the security aspect in the Rohingya camp, the EU Special Representative said he was very impressed when he was in touch with the representatives of the government and the people who were living there.
"They want to see more to be done to see more security, to see a greater degree of safety and they're very willing to work with the authorities to achieve that," he said.
In the past, Gilmore had discussions with the then government in Myanmar about what was needed to ensure "safe, dignified and voluntary" return to Myanmar.
"They were engaging in that. But of course, what has happened since is that the military has taken over. Now, we have a new situation with the internal situation that has gotten much worse," he said.
Gilmore said, "You have conflict situations in many parts of the country and some of the conditions in the country are much worse now than they were at that time. We have imposed seven rounds of sanctions on the Myanmar regime."
Earlier this year, the EU released over €43 million to address the humanitarian needs of people in Myanmar, as well as those of Rohingya refugees and their host communities in Bangladesh.
The EU says it will also continue to support the efforts of Bangladesh in responding to the Rohingya refugee crisis by providing over €23 million, part of which will also contribute to implement disaster preparedness programmes in the country.
This month, the EU released an additional €12.5 million to address the humanitarian needs of people in Myanmar, as well as those of Rohingya refugees and their host communities in Bangladesh and the broader region.
The EU has been providing humanitarian aid to people in Myanmar since 1994 and in Bangladesh since 2002.
Bangladesh is hosting over 1.1 million Rohingyas in Cox's Bazar district and Bhasan Char.