Fear grows for patients inside Gaza hospital, cut off after Israelis arrive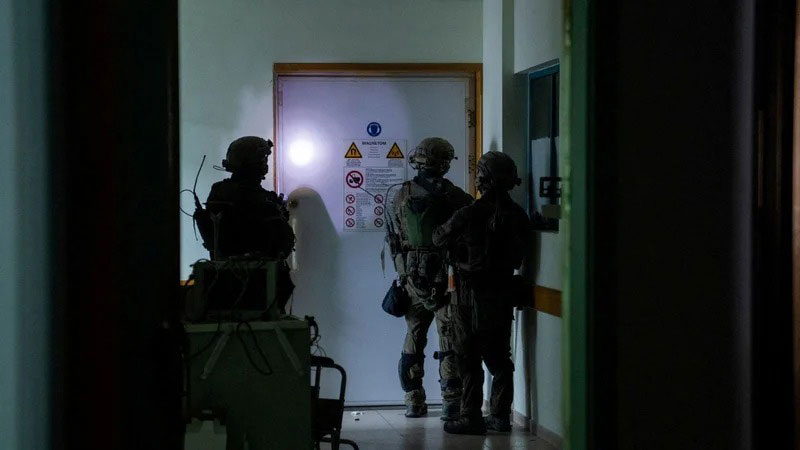 Palestinian medics said on Thursday they are increasingly afraid for the lives of hundreds of patients and medical staff at Gaza's biggest hospital, cut off from all links to the outside world for more than a day after Israeli forces entered, Reuters reports.
Gaza's health ministry said Israeli soldiers had removed dead bodies from the grounds of Al Shifa hospital and destroyed cars parked there but were not letting staff or patients leave.
Ministry spokesman Ashraf Al-Qidra said there was no water, food nor baby milk in Shifa, which was packed with 650 patients and about 7,000 people displaced by weeks of Israeli air strikes and artillery bombardments.
"Medical teams, patients and displaced people are fighting death due to the lack of any basic life necessities. The occupation forces are now present in the complex, but they did not provide any fuel for the hospital to continue work," he said in a statement.
"We demand the occupation forces leave the Al Shifa complex so that it can get back to work."
Medics have previously said dozens of patients including three premature babies had died from of a lack of fuel and basic supplies during a days-long siege that culminated with Israeli forces entering the hospital early on Wednesday.
Israel said on Thursday its troops were still there, but declined to give further details beyond its reports from the previous day, when it distributed images of soldiers unloading boxes marked "medical aid" and "baby food", and said they had found weapons.
Reuters journalists, who had been in touch with a surgeon and another eyewitness in the compound during the first hours of the Israeli operation on Wednesday, were unable to reach anyone inside for more than 24 hours.
Israeli forces brought a BBC film crew into the hospital overnight and showed it some rifles they said were found there, but the British broadcaster said Israeli escorts had barred its team from interacting with patients or staff.
Dr Nahed Abu Taaema, director of the Nasser Hospital in Gaza's main southern city Khan Younis, told Reuters all contact with colleagues inside Shifa had been cut off since Wednesday.
"The situation in Al Shifa is very dangerous and catastrophic. Now our patients in the ICU and the premature babies are being subject to danger."
He said some had died in the past days and more could die in the coming days.
The World Health Organization said it was trying to arrange a medical evacuation of patients from Shifa, but was hindered by security concerns, logistic constraints, and the inability to communicate with anyone there. WHO officials understood around 600 patients were still inside, including 27 in critical condition.
"Our options are rather limited but we hope to have some better news in the next 24 hours or so," WHO regional emergencies director Rick Brennan told Reuters.
All hospitals in northern Gaza have effectively been shut down by Israeli forces, who have ordered the evacuation of the entire northern part of the enclave, home to more than half its 2.3 million people. The area around Al Shifa, in Gaza City, has been the central focus of Israel's ground offensive that began at the end of October.
Israel maintains that Hamas fighters were operating a command headquarters in a complex of tunnels under the hospital, a claim backed by Washington. But more than 24 hours after entering it, Israel had yet to produce evidence of the existence of any such facility.
It released a video in which a soldier toured a hospital building, showing three bags with guns and flak jackets he said had been found stashed there, as well as several other rifles in a closet, and a laptop computer, but no tunnel complex. Officials said Hamas would have had time to clear out.
"Israel will have to come up with a lot more than a handful of 'grab and go' rifles to justify shutting down northern Gaza's hospitals with its enormous cost for a civilian population with urgent medical needs," Kenneth Roth, a former head of Human Rights Watch who now works as a visiting professor at Princeton, said on social media platform X.
Hamas said the Israeli video was staged. Other Palestinians said it depicted nothing like the vast underground militant headquarters complex that Israel had claimed justified treating the hospital as a legitimate military target.
"These are weak pretexts. There is nothing for the resistance inside medical institutions," said Taaema, the Nasser hospital director.
ISRAEL ORDERS EVACUATION OF SOUTHERN TOWNS
Elsewhere, Israel ordered civilians to leave four towns in the southern part of the Gaza Strip on Thursday, raising fears war could spread to areas where it had told people they would be safe.
Leaflets dropped overnight from aircraft told civilians to leave Bani Shuhaila, Khuzaa, Abassan and Qarara on the eastern edge of Khan Younis. The towns, collectively home to more than 100,000 people in peacetime, are now also sheltering tens of thousands more who fled other areas.
"The acts of Hamas terrorist group require the defence forces to act against them in the areas of your residence," the leaflets said. "For your safety, you need to evacuate your places of residence immediately and head to known shelters."
Residents said the area came under heavy bombardment overnight.
The United Nations says around two-thirds of Gaza's population have been made homeless, most of them sheltering in towns in the south, since Israel began retaliation against Hamas for a deadly rampage in southern Israeli towns.
Hamas militants burst through the fence around Gaza on Oct 7 in an assault that Israel says killed 1,200 people in the deadliest day in its history. Around 240 hostages were dragged back to Gaza.
Since then, Israel has pounded Gaza with air strikes and cut off food and fuel. Gaza health authorities deemed reliable by the United Nations say more than 11,000 people have been confirmed killed, more than 40% of them children, with many more feared trapped under rubble of bombed out homes.
Attention was focused anew on Thursday on Israel's future plans for Gaza after its president, Isaac Herzog told Britain's Financial Times newspaper that a "very strong force" may need to remain there for the near future to prevent the Hamas militant group re-emerging after the war.
US President Joe Biden said on Wednesday that occupying Gaza would be "a big mistake" for Israel.
Gaza, ruled by Hamas since 2007, is part of territory claimed for a future Palestinian state by the Palestinian Authority which exercises limited self-rule in the Israeli- occupied West Bank.
Violence in the West Bank has also escalated since Oct 7 and was already surging this year before the Hamas attacks. In an unusually strongly worded statement on Thursday, France said violence against West Bank Palestinians by Israeli settlers amounted to a "policy of terror".