Fighting between Myanmar security forces, Arakan army re-erupts; border road construction in Bandarban halted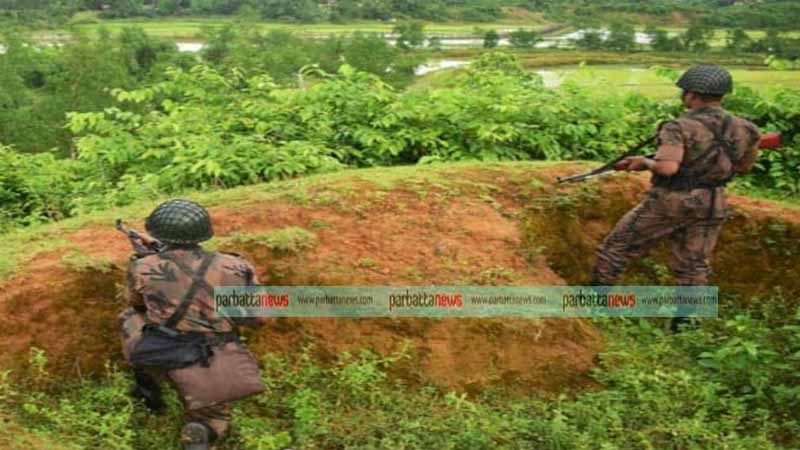 STAFF CORRESPONDENT, BANDARBAN
Myanmar security forces have once again been involved in a fierce clash with the Arakan Army (AA), a rebel group in Myanmar.
The sound of heavy shelling that resumed on Tuesday (Sept 6) following a two-day lull, sent panic among Bangladeshi people living along the Naikhongchhari border in Bandarban.
Bangladeshis on the border said Myanmar military and Border Guard Police (BGP) have been clashing with the AA just across the Ghumdhum border of Bandarban's Naikhongchhari for the last month.
About 20 members of the Myanmar army, including high-ranking officials, were reportedly killed in the clashes, they said.
In addition to attacking the rebel group on the ground, the Myanmar security forces also fired from helicopters and warplanes, according to them.
In the last one week, the border Bangladeshis said, six heavy shells have landed inside Bangladesh. However, there was no damage to Bangladesh as the shells did not explode.
Dhaka has so far summoned the Myanmar ambassador and lodged strong protests over shells fired from Myanmar landing in Bangladesh.
Meanwhile, since Tuesday morning, fighting has started again at Mongdu, Buchidong, Wali Dong and Rachidong areas in Myanmar's Rakhine state, just across the Naikhongchhari border.
From time to time, the sound of heavy gunfire is reaching this side of Bangladesh panicking Bangladeshi people living along the border.
The border area is intermittently shaking with the ear-piercing sound of heavy shelling. Myanmar has conducted helicopter exercises in the air.
The Rohingya-inhabited areas of Myanmar have been stained with blood.
Besides, due to security reasons, the Bangladeshi common people of the border are in trouble. The day labourers who collect trees, bamboos and wood from the hills of the border areas, are no longer able to go there.
Meanwhile, the Bangladesh Army has stopped the construction of the Naikhongchhari border road due to security reasons amid the increasing tension along the border.
Bangladeshis living along the border said that if Myanmar's belligerent attitude continues in Rakhine State, Rohingya infiltration can happen again.
To avoid any Rohingya infiltration, Border Guard Bangladesh (BGB) has strengthened the security measures by deploying extra troops along the border.
Lieutenant Colonel Syed Riyasat Azim, commander of Bangladesh Army's Engineer Construction Battalion-20 (ECB), said the construction of the border road has been halted for the last 15 days due to border tensions.
Once the situation becomes normal, the construction work of the road will be resumed, he said.
Upazila Nirbahi Officer Salma Ferdous said additional law enforcers have been deployed along the border to avoid any untoward incident.
Local people have also been alerted to moving along the border, she added.