Joint forces combat Rangamati diarrhea outbreak with medical campaign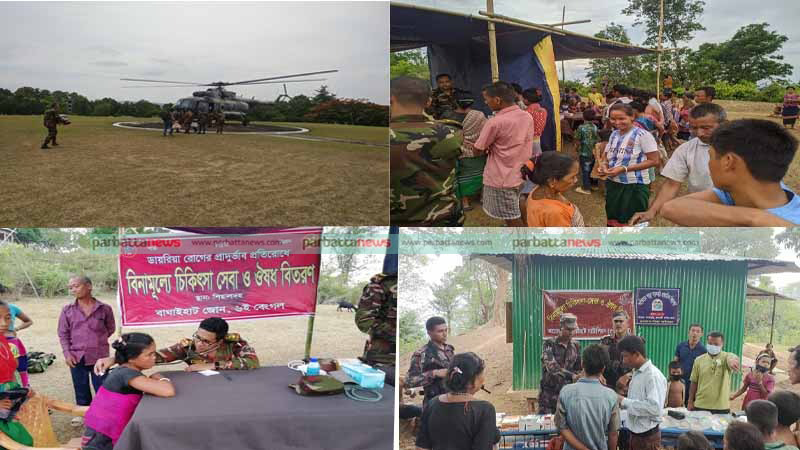 STAFF REPORTER
A joint medical campaign was carried out by the Bangladesh Army, Air Force, BGB, and Civil Administration to provide treatment to patients suffering from diarrhea in remote areas of Rangamati.
On Thursday (June 8) at 1:30 PM, under the overall supervision of the Region Commander of Khagrachari Region, a medical team from the Bangladesh Army, accompanied by two health workers from the civil administration, arrived in the remote village of Sealdah in Sajek Union, Baghaichhari Upazila, Rangamati district. The team was supported by a helicopter from the Bangladesh Air Force, which transported the necessary medicines, dry food, and clean drinking water. This initiative was conducted on the instructions of the Honorable GOC of the 24th Infantry Division.
It is worth noting that an outbreak of diarrhea has been reported in nearby areas, including Longthian Para, Arun Karbari Para, and Sealdah, over the past few days, resulting in two fatalities.
Last night, Wednesday, June 8, the Deputy Commissioner of Rangamati district sought assistance from the Khagrachari Region Commander in addressing this issue. In response, a patrol team of six EB (Baghaihat Zone) immediately departed on foot to the remote area, carrying essential doctors and medical supplies.
Additionally, another team, consisting of 54 BGB doctors, proceeded on foot to the distant Longthian neighborhood of Sealdah BOP, while a team comprising five Field Ambulance doctors and two medical personnel from the civil administration were airlifted to the Sealdah area. The medical teams provided medicines, saline solution, dry food, and purified drinking water to approximately 350-400 critical and diarrheal patients in Longthian Para, Arun Karbari Para, and Sealdah areas.
The Bangladesh Army, Air Force, and BGB remain committed to continuing this medical campaign and humanitarian assistance program in coordination with the civil administration, as part of their dedication to serving humanity.