parbattanews.com gets registration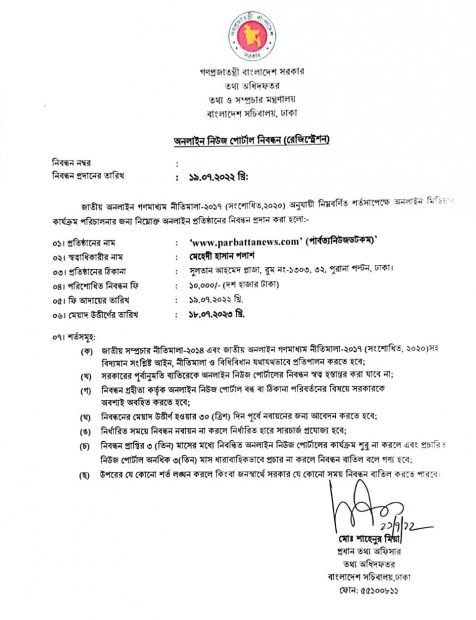 STAFF REPORTER
The government has registered parbattanews.com, the first national media on Chittagong Hill Tracts and Cox's Bazar, as an online news media.
parbattanews.com Editor Mehadi Hassan Palash received the registration paper on Thursday, July 21, 2022.
In an immediate reaction, he said," First of all, I give thanks to Allah, the almighty. Everything has become possible because of His will.
"At the same time, I would like to give thanks to all those who helped get the registration, including Hon'ble Information Minister Dr Hasan Mahmud MP.
"This registration is the recognition to our long-standing work. With this, our responsibilities increased. parbattanews.com will stick to its ideology and move ahead in the fulfillment of the target.
Earlier on July 14, the government published a list of 45 online news portals, including parbattanews.com, allowing them to be registered.
parbattanews.com is the most popular online news provider in the Chittagong Hill Tracts and Cox's Bazar.
It's the first online on the region to be registered as an online news portal.
parbattanews.com began its journey on May 2, 2013.