Rohingya IDP Camp Relocated by Myanmar Junta to a 'Sea of Mud'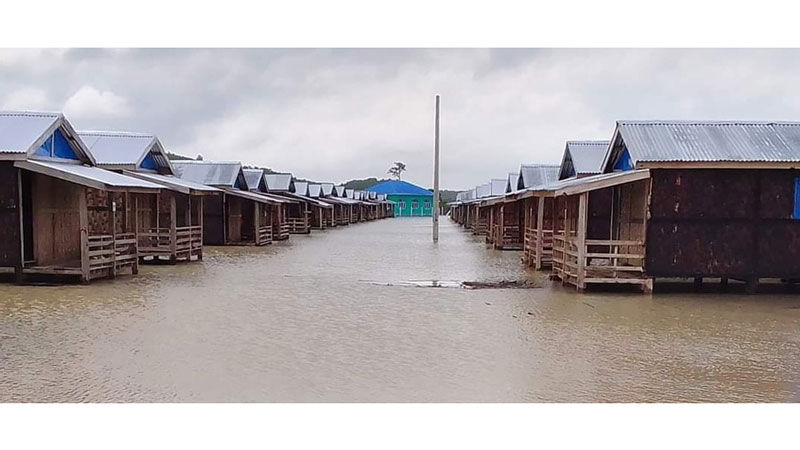 Internally displaced Rohingya people who were forcefully relocated from a camp near Kyauk Talone Pagoda in Rakhine State's Kyaukphyu town in western Myanmar are facing food shortages and illness at a new camp one camp resident describes as a "sea of mud", The Irrawaddy reports.
The new camp, about 400 meters from the previous one, is prone to flooding in the rainy season, and because of its distance from Kyaukphyu Town the Rohingya people kept in it are finding it difficult to feed their families because they have no access to employment.
They were relocated to the new camp on May 21 under pressure from the military junta, a Rohingya spokesperson told The Irrawaddy on condition of anonymity.
"The [Kyaukphyu] township administrator said houses had been built and told us to move to there. How are we supposed to live in a sea of mud? The roads are also poor. [The new camp] floods when it rains. We told them that it was not okay for us to move there, but they came and warned us with a loudspeaker that we would be punished under the Natural Disaster Management Law if we didn't move by the end of May. We were intimidated into relocating to the new place," the spokesperson said.
Internally displaced Rohingya people had been living at Kyauk Talone, a temporary camp, since they were forced from their homes in Kyaukphyu Town by ethnic violence in 2012.
The now-ousted National League for Democracy (NLD) government had planned to give them better housing at a new location. It had earmarked 2.1 billion kyats from presidential emergency funds to relocate residents of the makeshift camp to another site that would have 363 houses with flush toilets, schools, warehouses and gravel roads, as well as running water and electricity.
The new camp near Gone Chein Village was part of a national resettlement strategy adopted by the Ministry of Social, Welfare, Relief and Resettlement in 2018.
Some residents of the camp, however, said they wanted to return to their previous towns in Kyauktaw Town, warning that the new site was prone to flooding, but officials were concerned this could lead to renewed outbreaks of ethnic violence in the volatile state.
Rohingya people and NLD authorities eventually reached a relocation agreement. Following the coup, however, junta-controlled departments built substandard housing and forced them to move to a different location, said another Rohingya resident of the camp.
"Under the NLD government, [social welfare minister] Dr. Win Myat Aye came and promised to build proper houses and streets with electricity … He negotiated with our camp management committee, and we agreed [to relocation]. But the wood of the [new] houses was already infested with termites before we started to live there. And they built communal toilets. Because of flooding and other factors, children are suffering from diarrhea."
The new site is the same as the one selected by the NLD government, but it was not upgraded for residential use and the lacks the infrastructure promised.
Kyauk Talone camp houses more 1,100 displaced people from 380 households. Without access to employment, they eke out a living on a monthly allowance of 20,000 kyats per person provided by the World Food Programme.
The price of basic foodstuffs has soared since the coup due to inflation and food shortages caused, in part, by the junta's arson attacks on paddy fields in central Myanmar.