Rohingya Repatriation: Myanmar refuses to issue citizenship certificates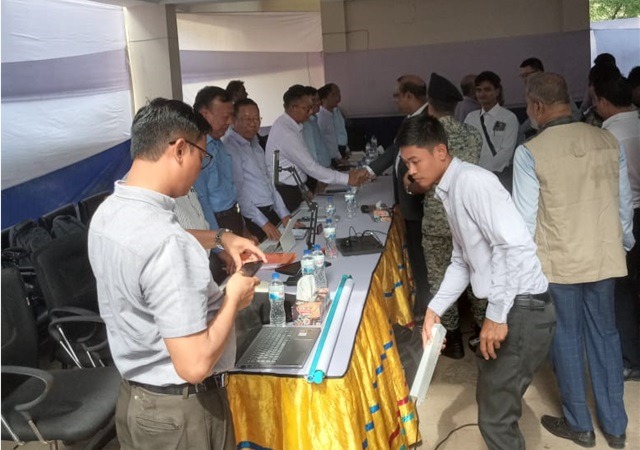 COX'S BAZAR CORRESPONDENT
A 32-member Myanmar delegation convened for an interview and coordination meeting in Teknaf, Cox's Bazar.
The meeting concluded on Tuesday, October 31, at 5:30 a.m. at the Nadi Nibas rest house in Teknaf.
Regarding the repatriation of Rohingya refugees, the Myanmar delegation announced their plans to settle Rohingyas in 20 villages, with arrangements for schools and hospitals in specific areas.
However, they made it clear that Rohingyas would not be allowed to travel outside designated areas, and they would not receive any citizenship certificates.
Samsuddouja Nayan, Additional Relief and Refugee Repatriation Commissioner (Deputy Secretary), confirmed that discussions and meetings with Rohingya families seeking repatriation, under the leadership of MR Saw Naing, the chief of state in Rakhine, are progressing smoothly.
The meeting revolved around addressing the five demands put forth by Rohingya refugees in Bangladesh. These demands include the issuance of Myanmar citizenship certificates, the return to their homeland, restoration of their homes, access to education and medical facilities, freedom of movement, ensuring their safety, and providing a means of livelihood.
Badrul Islam, a Rohingya leader residing in Teknaf Nayapara Shalbagan No. 26 camp, was present at the meeting. He expressed dissatisfaction with the Myanmar government delegation's statement regarding the claims of Rohingya refugees in Bangladesh.
Badrul also pointed out that denying Rohingyas civil rights and free movement in Myanmar hampers the repatriation process.
Relief, Refugees and Repatriation Commissioner (RRRC) Additional Secretary Mizanur Rahman, NSI Director Commodore Md Niamat Elahi, DGFI Colonel GS Colonel Morshed Alam Chowdhury, and 16 APBN Captain Additional DIG Hasan Bari Noor, alongside a group of officials from the Rohingya refugee camp, attended the meeting.
Around 200 Rohingya individuals from various families participated in the discussion meeting, with interviews for 100 individuals already completed. T
he Myanmar government delegation arrived in Teknaf on the morning of Tuesday, October 31, and returned to Myanmar from Teknaf Transit Jetty by two wooden engine-powered boats at 6:00 p.m. after the meeting and interviews.
The delegation is expected to return to Teknaf on Wednesday, November 1, to discuss and interview with other Rohingya refugees.