St. Martin islanders evacuating as Cyclone Mocha approaches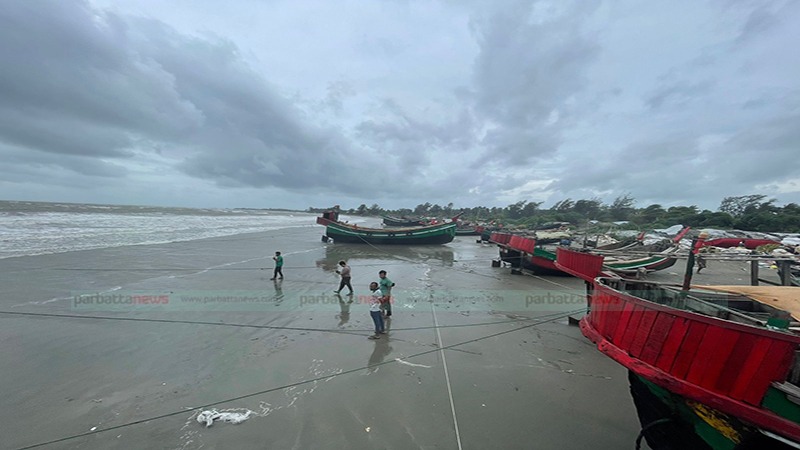 STAFF CORRESPONDENT, COX'S BAZAR
As Cyclone Mocha approaches the Bay of Bengal, residents of St. Martin Island in Teknaf Sadar, a Cox's Bazar sub-district, are evacuating their homes in fear of the potential danger.
Abdur Rahman, the panel chairman of St. Martin's Union, said that extensive public announcements have been being made by the Union Parishad since the issuance of the cyclone cautionary signal.
So far, as of Thursday evening, May 11, more than 500 people have arrived in Teknaf Sadar from St. Martin Island and taken shelter at various residential hotels and homes. Most of the islanders are expected to follow suit by Friday, he said.
"I myself am also staying in Teknaf Sadar," Rahman said.
The panel chairman of St. Martin's Union also mentioned that island residents have moved to safety via various vessels, including service boats and fishing boats.
Habib Khan, a former member of the union, said that 15 families, including the Haque family who owns Euro Bangla restaurant and Mahbub, a raw fish trader, have moved to safe shelters.
Mujibur Rahman, chairman of the Union Parishad, said, "The evacuation of people from the coast has not yet been initiated. However, islanders are being warned in every village to be careful.
"In addition to shelters provided by hotels, 1,300 CPP (Cyclone Preparedness Programme) volunteers have been readied on the island."
Meanwhile, the administration has issued an alert for islanders to be cautious.
Surveillance has increased on Shahpari Island, located on the bank of the Naf River bordering Myanmar, as well as on St. Martin Island. The Bangladesh Navy is also prepared to deal with the situation, according to the administration.
The Teknaf upazila administration has said that hundreds of hotels, motels, and postal bungalows in the upazila have been prepared for locals in the event of a disaster.
Volunteers, including the BGB, police, coast guard, fire service, and medical teams, have been instructed to be ready for St. Martin and Shahpari Island, according to the administration.
Teknaf Upazila Executive Officer (UNO) Kamruzzaman mentioned, "The isolated island of St. Martin is being given extra importance.
"Our navy is also prepared to deal with the island to handle disasters. Besides, BGB, police, and coast guard members are on alert on the island."
Mr Kamruzzaman added, "More than 50 shelters, including hotels and motels, have been prepared on St. Martin and Shahpari islands.
"The hotline has been opened, and residents of the two islands are being encouraged in advance to come to shelters and to be aware of the situation."
The UNO also said, "If necessary, they will be taken to shelter with the help of law enforcement forces, volunteers, and local public representatives."
Schools, weather offices, post offices, and hotels are requested to remain open, especially for island residents to take shelter, he added.
The deep depression over the Southeast Bay of Bengal and adjoining areas has intensified and turned into Cyclone 'Mocha.'
As a result, on Thursday (May 11), the Meteorological Department lowered the remote cautionary signal number from one to two at Chittagong, Cox's Bazar, Mongla, and Payra seaports.
Private development organizations, along with the government, have made preparations to deal with the cyclone.
Coast Foundation Executive Director Rezaul Karim Chowdhury said that the Coast Foundation has taken preparations in coordination with district and upazila administrations to deal with Cyclone Mocha.