Khagrachhari Region Commander gifts full sets to top 4 players of friendly match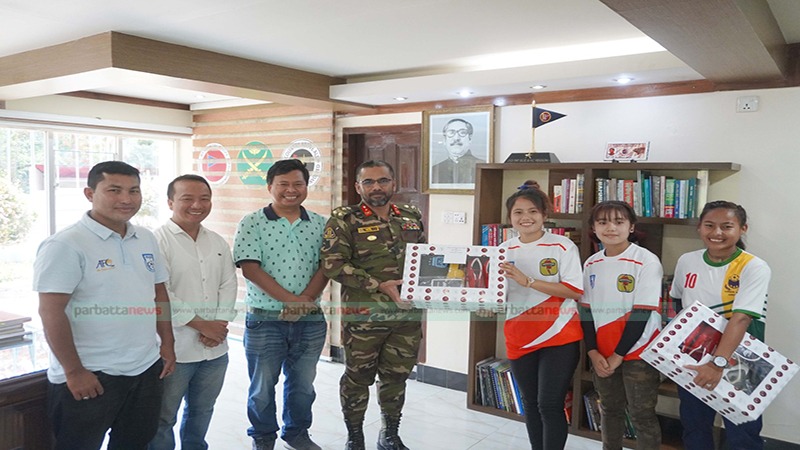 KHAGRACHHARI CORRESPONDENT
Khagrachhari Region Commander Brigadier General Gholam Mohiuddin Ahmed (Mahi) has rewarded the four best players of a friendly football match in the region with full sets of football gear, including shoes, jerseys, pants, tracksuits, and gloves.
The friendly match, Tripura Youth Welfare Association Promila Footballer Team versus the Khagrachhari Football Academy, was held on Saturday, May 6, 2023, in honor of the Region Commander's visit to the training camp established for teenage footballers in search of Magical Tripuras.
During the event, the Region Commander announced that he would give gifts, including boots, jerseys, shorts, pants, and tracksuits, to the four best players of the two teams.
The selected best players, Lisa Tripura, Anamika Tripura, Sampri Tripura, and Omrasong Marma, received their rewards on Thursday, May 11, around 10:30 am.
Representatives from the Bangladesh Tripura Juba Kalyan Sangsad (BTJKS) expressed their gratitude to the Region Commander for his generosity and wished him continued success, good health, and a long life.
During the distribution of gifts, BTJKS Central Committee President Lobleshwar Tripura Lion, General Secretary Joy Prakash Tripura, and Youth Footballer Training Program convener and coach Jyotish Basu Tripura were present.