UN rights council adopts resolution for Rohingya repatriation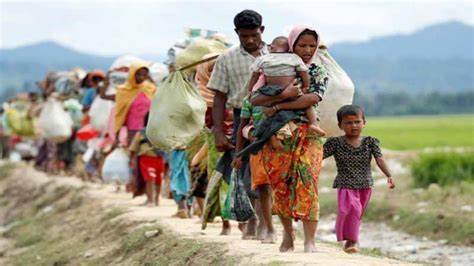 NEWS DESK
The United Nations Human Rights Council has adopted a resolution calling upon Myanmar to repatriate the persecuted Rohingyas taking shelter in Bangladesh without delay despite initial opposition from some Western countries.
The Organisation of Islamic Cooperation on behalf of its all member states placed the resolution on the 'State of Human Rights of Rohingya Muslims and other minorities in Myanmar' at an initiative of Bangladesh in the ongoing 50th session of the UN Human Rights Council in Geneva, said a press release from the Permanent Mission of Bangladesh in Geneva on Friday, July 08, 2022.
The council expressed concerns at the reports of serious human rights violations and abuses in Myanmar, particularly against Rohingya Muslims and other minorities and reiterated the call for expediting investigations into sexual abuses, torture and all other crimes against humanity committed in Myanmar and bringing perpetrators to book at national, regional and international levels, according to the release.
The Western countries opposed the resolution that called for the immediate repatriation of Rohingya to Myanmar citing the ground that the repatriation was not possible unless the ongoing political crisis in Myanmar was over, said the release.
The resolution was finally adopted unanimously on Thursday after a long discussion and debate, the release added.
It was decided to hold a panel discussion for finding a permanent solution to the Rohingya crisis and stopping incidents of human rights violations against Rohingya Muslims and other minorities in Myanmar.
The UN Human Rights Council requested the UN High Commissioner for Human Rights to monitor and follow up on the implementation of the recommendations made by the Independent International Fact-finding Mission.
Bangladesh was praised in the resolution for hosting the forcefully displaced Rohingya people, the release said.
Bangladesh foreign minister AK Abdul Momen in May urged the United Nations to take 'practical actions' for early repatriation of the forcefully displaced Rohingya people to their homeland Myanmar as not a single Rohingya returned to the Rakhine state since the signing of instruments between Bangladesh and Myanmar in late 2018 for repatriation of Rohingya.
The number of Rohingyas taking shelter in Bangladesh has already crossed 11 lakh following the 2017 influx of the persecuted Myanmar nationals, who fled the military crackdown in the Rakhine state, according to officials.
At least two attempts to start the repatriation of the refugees from Bangladesh to Myanmar failed as the Rohingyas refused to return home without a guarantee of their citizenship and security.