10 days on, Manikchhari businessman still missing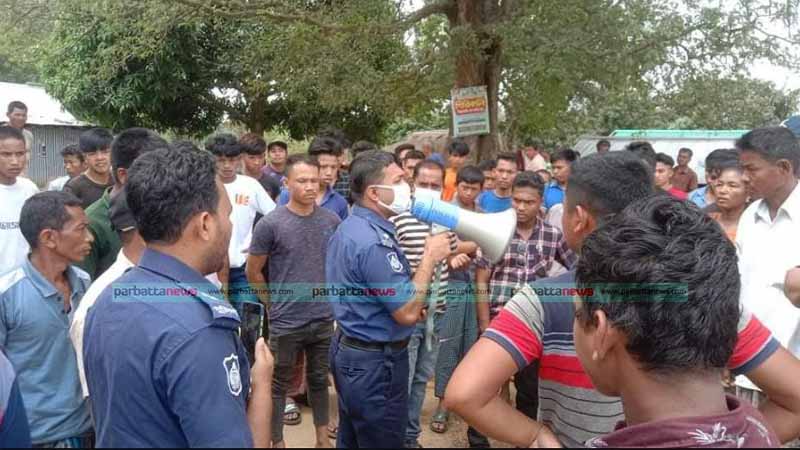 Manikchhari Correspondent:
On the night of April 5, Md. Abdul Quader, 45, a small businessman, was abducted at Jogyachola in Khagrachhari's Manikchhari upazila. Now 10 days into his abduction, Bengalis in the area have now become aggrieved at this and threatened to blockade the area permanently. As a result, panic has spread among the tribals. Police and army have been stationed in the area to keep the situation normal.
According to police and abducted family sources, businessman Kader was abducted by tribal terrorists on his way home from Kharichhara shop around 8:30pm on April 5. As he was not returning home even late into the night, his family and relatives went to search for him and found his motorcycle, a rope, and scotch tape next to the temple in the jungle. They understood that he was abducted and informed the army and police about this immediately.
Later, abductors, introducing themselves as members of United People's Democratic Front or UPDF (Prasit) contacted his family demanding a ransom of Tk 50 lakh at first and then a ransom of Tk 30 lakh. At one stage, the abductors softened their stance, reducing the ransom demand further. The victim's family started getting ready for getting him released in exchange for the reduced ransom. But since last Thursday, communication with the kidnappers has been cut off again. As a result, anger and frustration continue to grow in the family and villagers.
None from the victim's family talked about the abduction and their efforts to get the victim released. However, on condition of anonymity, a source close to the abductors and the family of the abductee confirmed that the family was trying their best for the release of the victim.
Meanwhile, Chittagong Hill Tracts Citizens' Council and the residents of the area have staged a human chain demanding the release of the businessman without delay.
It's unfortunate that the business has still been untraced, locals and families said.
With no finding of the businessman, signs of anger and frustrations among the family members and villagers are quite visible.
On Saturday (April 18) morning, some Bengali youths came to the market in Chhadurkhil area and asked the tribals not to come to the market until the businessman is released. At that moment, the tribals became panicked.
When their attention was drawn to this, police Officer-in-Charge (OC) Mohammad Shahnoor Alam and Union Parishad Chairman Kyajari Mahajan rushed to the spot.
They asked the tribals and Bengalis to ignore any provocative word and come up with any information they may have to rescue the abducted businessman.
The army and police have tightened security in the area.