Army chief inspects Khurushkul Special Shelter Project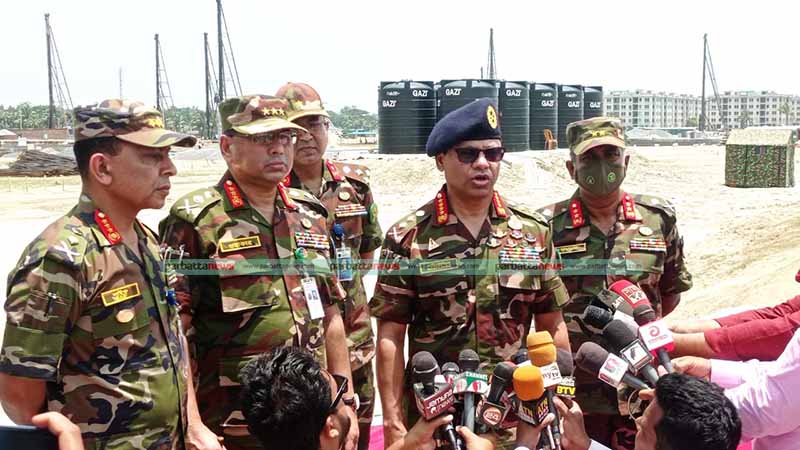 Staff Correspondent, Cox's Bazar
Chief of Army Staff General SM Shafiuddin Ahmed has inspected the Khurushkul Special Shelter Project under the supervision of the Bangladesh Army at Khurushkul Union in Cox's Bazar's Sadar upazila.
While inspecting the project on Saturday (May 7), he observed the progress of the construction work of the project and gave necessary instructions about this.
At the time, Lieutenant General Walker-uz-Zaman (SGP, PSC, Principal Staff Officer, Armed Forces Division) Lieutenant General Md Saiful Alam (SBP, OSP, SUP, AWC, PSC, Quartermaster General), Major General FM Zahid Hossain (AFWC, PSC, Chief Consultant General, Ad Hoc Construction Supervision Consultant), Major General Md Moshfekur Rahman (SGP, SUP, NDC, PSC, Adjutant General) and GOC of 10 Infantry Division Major General Md Fakhrul Ahsan (BSP, NDU, PSC), among others, were present.
The army chief said the Khurushkul Special Shelter Project is a priority one of the prime minister's. The main goal of the project is to rehabilitate 3,606 families who have become homeless due to climate change effects and expansion of Cox's Bazar Airport.
The project was approved at a meeting of the ECNEC (Executive Committee of the National Economic Council) on November 24, 2020.
One of the main features of the project is to construct 119 five-storey buildings with pile foundations.
Various facilities including places of worship, cyclone shelters, playgrounds and clean water supply are being constructed under this project.
The project is being implemented by 34 Engineer Construction Brigade of Bangladesh Army.
The project is expected to be completed by June 2023.
The army chief emphasized the need to complete the construction of the project properly and timely.
He also inspected the various developmental activities by the army at Himchhari, adjacent to Inani and Marine Drive.
During the inspection, he inquired about the current progress of the activities and provided necessary instructions to the persons concerned.
At the time, the army chief thanked the members of the army at all levels for playing an effective role in the construction of the country's physical infrastructure and commended them highly.
He expressed his firm belief that the Bangladesh Army – being imbued with the motto 'In War, In Peace, We are everywhere for our Nation' – will continue to play a pioneering role in the development of the country in the future as well.