Army provides relief to flood-affected families in Dighinala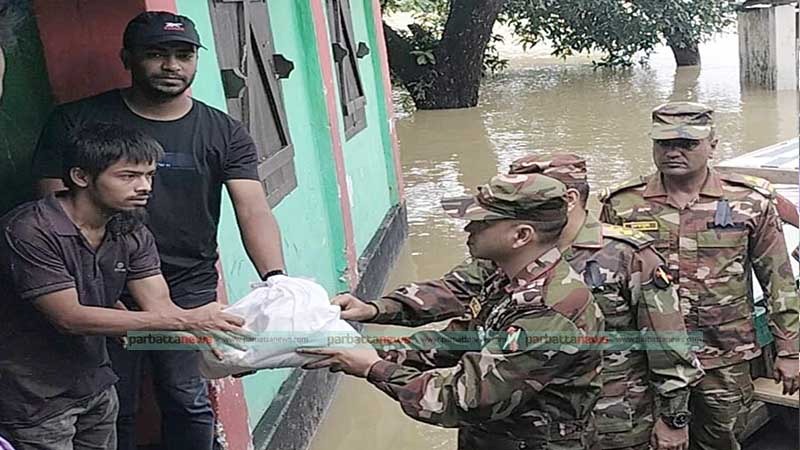 DIGHINALA CORRESPONDENT
The army has reached several shelters in Dighinala upazila of Khagrachhari, where continuous heavy rainfall over the past few days has caused flooding in the upazila's Merung Bazar and surrounding areas.
Numerous families have lost their homes, prompting them to seek refuge in nearby safe shelters. In response, the 4 East Bengal Dighinala Zone of the Bangladesh Army has extended relief aid to these families who had to evacuate their homes due to the floods.
On behalf of Dighinala Army Zone, Deputy Commandant of Dighinala Zone, Major Noor Nafis (OSP, PSC), conducted the distribution of relief items to 55 families who are currently staying at Chhota Merung Bazar Primary School and nearby secure shelters. This distribution took place on Wednesday (August 9) at noon.
During this event, Major Noor Nafis said that the Bangladesh Army is committed to supporting the families residing in shelters under the purview of Dighinala Army Zone by providing them with essential relief aid.
He also mentioned the ongoing communication with the local UP Chairman and UP members to gradually bring all sheltered families under their support.
The relief distribution event was attended by Captain Mostafizur Rahman (RMO) and Chairman of No. 1 Merung Union Parishad Mahmuda Begum Lucky, among others.