'Baisabi' begins in hilly districts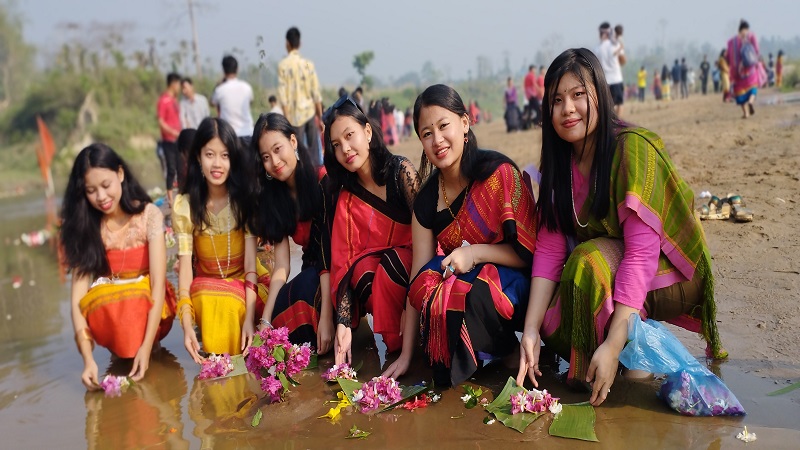 NEWS DESK
The celebrations of 'Baisabi' festival, marking the inauguration of Chakma 'Phool Bijhu', Tripura 'Boisu' and the Marma community's 'Sangrai' festivals, began on Tuesday in the Chittagong Hill Tracts with much enthusiasm.
The celebrations began with immersing flowers by local MP Ushaton Talukdar in Kaptai Lake in the morning.
Baisabi is considered to be the major cultural festival of 14 ethnic minority communities, who speak in 11 languages, reports UNB.
They are expected to celebrate the main 'Bijhu' festival on Thursday, a day before the Bengali New Year
The day is marked by the people of every age group tasting various food items, while the adults keep themselves busy with several ethnic genres of alcohol such as Kanji, Jogra and Du'Chuani.
The city's Garjantali area was the setting for the local Tripura community, who performs their ritual of giving away flowers into the river, as tokens of offering for peace and happiness while keeping their goddess Ganga Devi as witness.
Rangamati Tripura Welfare Foundation has organised this year's Phool Bijhu in the Kaptai Lake, arrangement for bathing by senior citizens, Garaia dance by the Tripura community, Pitha Utshob and other functions.
The Marma community is expected to hold their traditional Sangrai, or 'pani khela', on 15 April in the city's Chandraghona area, Chitmorom union and other locations.