Bangladesh Army ready to respond to Myanmar if needed: Army chief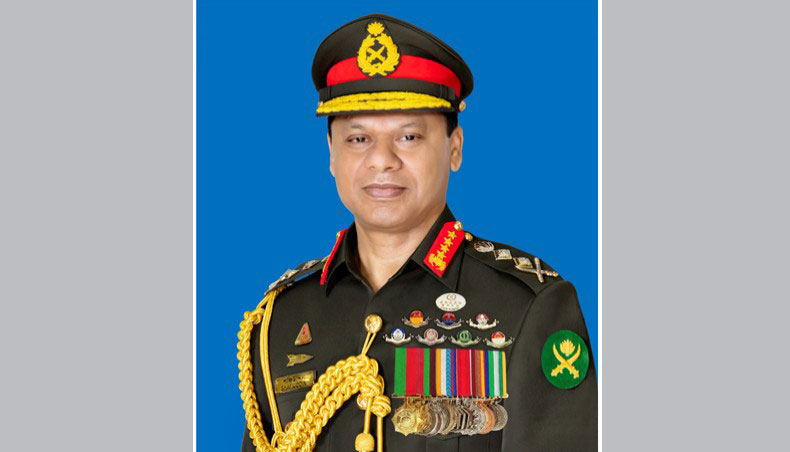 NEWS DESK
Home minister Asaduzzaman Khan on Wednesday held a high-level meeting with the security and law enforcement agencies at his secretariat office to examine the situation on the Myanmar border.
Following the closed-door meeting, the minister said that Bangladesh's army and other forces were ready to defend the country as they were entrusted.
'We have seen a number of provocations. We think Bangladesh has no role to play as long as there is an internal conflict where the Arakan Army is fighting with [Myanmar armed forces].'
Bangladesh Army chief General SM Shafiuddin Ahmed, in a separate programme on Wednesday, said that his personnel were ready to respond to Myanmar if it was required.
Shafiuddin said that he had already sent his Myanmar counterpart a strong message amid continued mortar shelling, firing, and flying jets and drones that killed one Rohingya and injured others in the Bandarban district.
'We are ready to respond if it is needed. That's for sure. I am in contact with all my stakeholders…' General Shafiuddin said, speaking at the programme at Dhaka Cantonment.
The Bangladesh army chief said that he had established communication with his Myanmar military counterpart following consent from prime minister Sheikh Hasina, also the defence minister, and gave a strong message.
More than 10,000 people, including about 4,000 Rohingyas on no man's land near the Tambru border in Naikhyangchari of Bandarban, have been passing their days in panic as the Myanmar military allegedly continued flying fighter jets and drones and using mortar and machine guns to fire into Bangladesh territory since August.
In the latest attack on September 16, at least three mortar shells were fired into Bangladesh from Myanmar between 8:15pm and 9:00pm, killing a 17-year-old adolescent boy, Mohammad Ikbal, and injuring six others, who were hospitalised later in the night.
The government deployed Border Guard Bangladesh and Coast Guard along the border to prevent a fresh influx of Rohingya refugees.
The army chief in the civil-military gathering said that the Myanmar army chief replied to him in writing, through the defence attaché, saying that these were not being done by them and assured Bangladesh that there would be no incidents committed by the Myanmar military.
The Myanmar military, the Bangladesh army chief said, accused an insurgent group of those recent incidents.
'We are in close touch and we do not expect a further deterioration of the situation. It will be peacefully solved,' he told the gathering, adding, 'Should it be aggravating further, no worry, Inshallah, we are ready to respond to the situation.'
Myanmar's firing along the border started in the third week of August and has since expanded to cover around seven kilometres from Naikhyangchari in Bandarban to Ukhyia in Cox's Bazar.
The sound of firing, however, was far less than in the past few days in Bandarban and Cox's Bazar, locals said.
Experts said that it was a matter of concern for Bangladesh as Myanmar continued firing mortar shells into its territory while fighting an insurgency within.
On September 14, prime minister Sheikh Hasina said that her government did not want war with the neighbours.
The foreign ministry has summoned Myanmar's envoy to Bangladesh four times since August 21 to lodge protests over mortar shelling and firing from Myanmar into Bangladesh territory.