Bengalis in CHT being harassed, tortured in every sphere of life: Nagarik Parishad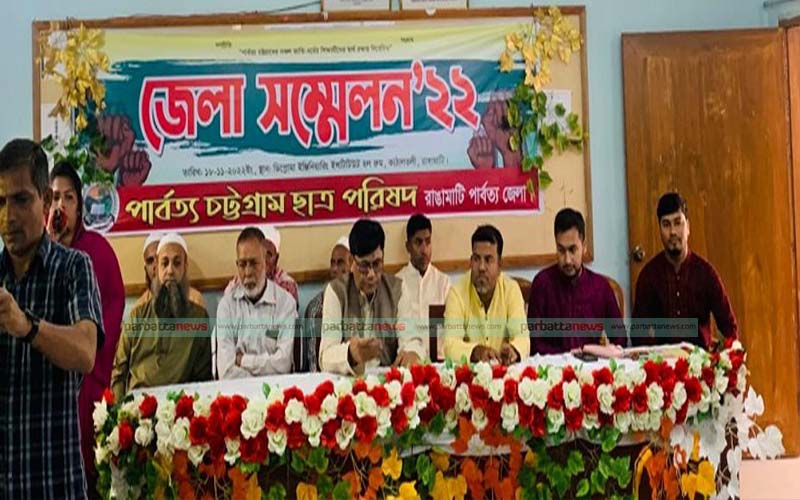 STAFF REPORTER
Bengalis in Chattogram Hill Tracts have been being harassed and tortured in every sphere of life, the chairman of Parbatta Chattogram Nagarik Parishad has said.
Some 30,000 Bengalis have been leading a subhuman life, with them being confined to cluster villages and their children being deprived of higher education, and so there is no alternative to Parbatta Chattogram Nagarik Parishad and Parbatta Chattogram Chhatra Parishad for realizing their rights, Kazi Mozibor Rahman said on Friday morning (Nov 18, 2022).
He was speaking as chief guest at the Parbattya Chattogram Chhatra Parishad, Rangamati District Conference, which was held at the hall room of the Diploma Engineering Institute in the district town.
Tribal children have been receiving different opportunities as members of backward communities in educational institutions. On the other hand, despite Bengalis being more backward than tribals in the hill tracts, their children do not get such opportunities. And so Bengali students must wage a movement for realizing their rights, constitutionally, on the population ratio basis in the hill tracts in every sphere of life, Mr Rahman said.
The Secretary General of the central committee of Parbatta Chattogram Nagarik Parishad spoke as a special guest at the conference with Rangamati District Convening Committee Member Secretary of Parbatta Chattogram Chhatra Parishad Mamunur Rashid Mamun in the chair.
Md Habib Azam was declared president, Md Tazul Islam Taaz general secretary and Mamunur Rashid Mamun organizing secretary of the Rangamati District chapter of Parbatta Chattogram Chhatra.
Leaders of various levels of Nagarik Parishad, Mahila Parishad and Chhatra Parishad were present in the conference.