Development in hill tracts hindered by terrifying KNF terrorists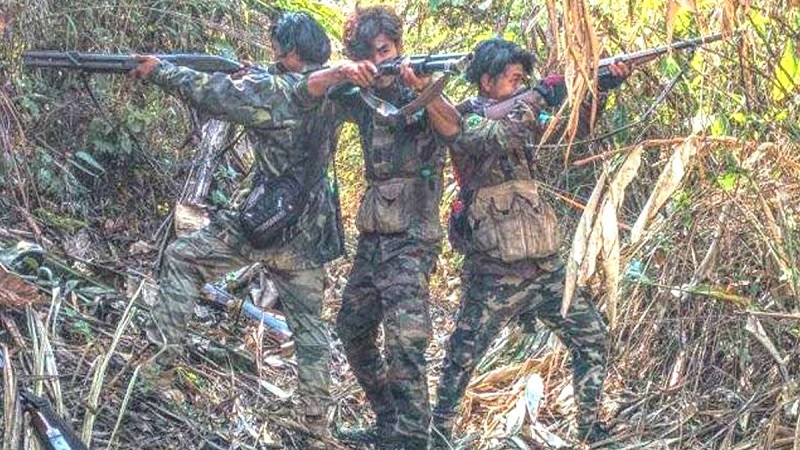 DESK REPORT

While Bandarban is historically known as the most peaceful and harmonious district among Khagrachari, Rangamati, and Bandarban, the peace agreement seems to be threatened by the recent surge in armed activities by KNF. Killings, shootings, and abductions have become almost daily occurrences in the region since last year, turning these districts into sanctuaries for militants. Locals are now questioning whether the peaceful reputation of the region can be sustained.
According to reliable sources, the Kuki Chin National Front (KNF) is exploring the possibility of a separate state called the 'Kuki-Chin State'. Their ancestral lands in nine upazilas of the hills have been encroached upon, and they have been deprived of various government benefits, including quota. Other organizations, such as the JSS, have been using their land as sanctuaries for terrorists and committing various crimes. KNF was formed to address these issues and reclaim their lands.
In 2017, the organization launched an armed operation called the KNV, which sent hundreds of its active members for training in Kachin, Karen State, and Manipur states. In 2019, they returned to their armed status after completing commando training. This organization, both armed and unarmed, has more than 600 members who are equipped with heavy weapons along the Ruma border and the Jampui hills of the Mizoram border in India. Currently, they are engaged in criminal activities and are using SBBL, AK 47, SMG, pistols, and self-made landmines in at least five upazilas of Bandarban and Rangamati.
Tourism industry collapse
Due to a joint operation by the security forces against militant organizations and the KNF in the border area of Bandarban, which began on October 17, at least two hundred hotels and motels in the district have laid off their employees. Additionally, more than 200 boats in Thanchi and Ruma, 300 Candergari (a popular mode of transportation for tourists), and 300 tourist guides are currently unemployed. The hill people are also unable to engage in jhum cultivation, which has resulted in their inability to collect their own food, and as a result, the businessmen are facing an extreme economic crisis.
Stagnant development activities
Construction workers involved in the building of roads, bridges, culverts, and school buildings for the government are leaving three upazilas in the district due to abductions, firing, killings, and imprisonment. They are returning to the district headquarters out of fear of being kidnapped at any time. Moreover, workers from the district are reluctant to go to the upazila for development work. As a result, there is a stagnation in development activities in the affected areas.
Deprivation of education for hill children
Since January of last year, six government primary schools in Ruma have been closed due to operations by KNF and anti-militancy joint forces. The schools are namely Mualpi Para Government Primary School in Pindu Union, Artah Para Government Primary School, Bastlang Para Government Primary School, Munnuam Para Government Primary School, Pakniar Para Government Primary School in Remakri Prangsa Union, and Kespai Government Primary School. As a result, more than one hundred and fifty children have been deprived of their education, and their future is uncertain.
KNF's travel ban
On February 8, the KNF issued a ban to the association of transport owners operating in Ruma, Thanchi, and Rwangchari, asking them not to send vehicles to the ongoing operation of the joint forces. This ban was followed by shootings at motorists and two kidnappings. Subsequently, on March 15, Chimbuk roads, including Bandarban-Ruma, Rowangchari, and Thanchi, were banned for an indefinite period after 7 pm, preventing all types of vehicles from traveling. Consequently, there is extreme fear among the vehicle drivers plying on the roads of the three upazilas.
Distant hope for peace
During the joint operation, two KNF members and three Mog party were killed in KNF firing. Additionally, twelve construction workers were abducted by KNF from Thanchi on March 11, and among them, one worker was shot dead while four people were taken hostage. On March 12, at noon, Army Master Warrant Officer Nazim Uddin was killed, and two army personnel were injured in KNF firing. On March 15, while working on the road in Longthasi Jhiri area of Ruma, KNF members abducted nine people, including retired Sergeant Anwar. In a message on March 18, the KNF demanded the release of 30 people from the Bawm community, who were detained by the joint forces from September 9 to March of the last year, and threatened to kill Anwar Hossain if their demand was not met.
On March 18, the KNF claimed that landmines and booby traps had been planted in their claimed areas. On the other hand, the joint forces reported that 68 militants from Jamaatul Ansar Fil Hindal Sharqeera and several KNF members were apprehended during their operation in the hills.
Mass exodus due to fear in the area
Due to fear and insecurity, many people have been forced to leave their homes and seek refuge in other areas. Since November 15th of last year, 548 people from 132 families have taken refuge in Mizoram. On January 28th, 140 Marma women, men, and children sought refuge in Ruma Sadar from Mulpi Para, but they returned home on February 5th. On March 10th, 220 people from 56 families in 3 neighborhoods of Ward No. 2 of Barathli Union No. 4 of Rangamati's Bilaichhari sought shelter in Tangchangya Reichha and Rowangchhari headquarters. This exodus of people highlights the deteriorating security situation in the area.
Internal rift in KNF emerges!
Sources reveal that some members of the Bom community took shelter in Mizoram with the help of KNF, while others left for work in hotels in Chennai and Bangalore. KNF leadership reportedly became furious with the latter group for not joining the armed conflict. In a meeting held on March 10 in the presence of KNF chief Nathan Bom and his deputy Vanchun Lian Master, who is also an assistant teacher at Pantala Hadman Para Government Primary School, attempts were made to resolve the conflict in Humunuam village of Langtalai district in Mizoram.
During the meeting held on March 10 in Humunuam village of Langtalai district of Mizoram, Assam Rifles arrested two cadres of Kuki Chin National Army (KCNA) – Jingramlian Bom (32), an aide of Nathan Bom of Saliupi Para, Remakri Prangsa Union and KNF Commando Pajau Bom (22) of Abidchilit Para (Gilgar) of Rowangchari. Assam Rifles claims that they were smuggling weapons to Myanmar. However, Nathan Bom and Vanchun Lian Master managed to escape.
Local perspective on the situation
According to Ashish Debnath, a contractor who traveled from the district town to work on a paint project in Rowangchari, many workers and contractors are concerned about their safety and have left their work to seek refuge in the district headquarters. The volatile situation has made it difficult for them to continue working and carry out their daily routines without fearing for their lives.
Rajiv Barua, the Finance Secretary of the Hotel Motel Owners Association in Bandarban, stated that the tourism industry in the region is facing a dire situation due to the ongoing conflict.
Musa, the President of Bandarban District Truck Owners Association, expressed his concern about the recent attacks and kidnappings on motorists. He said, "Terrorist groups never used to target motorists before, and I am worried about the current situation." He expressed hope that with everyone's efforts, such incidents will come to an end.
In this regard, Bandarban Hill District Council Chairman Kyshaihla stated that in order to ensure peace for all communities in the area, it is imperative for all armed groups to surrender their weapons.
It's worth noting that if the government implements the CHT Peace Accord, which was signed on December 2, 1997, to establish peace in the hills, Bandarban, the most peaceful district among the three hill districts, will see a return of peace. The locals are hopeful that harmony will be maintained among the 11 ethnic groups, including Bengalis, and a lasting peace will be established in the region.