Bandarban Zilla Parishad hosts farewell reception to honor Region Commander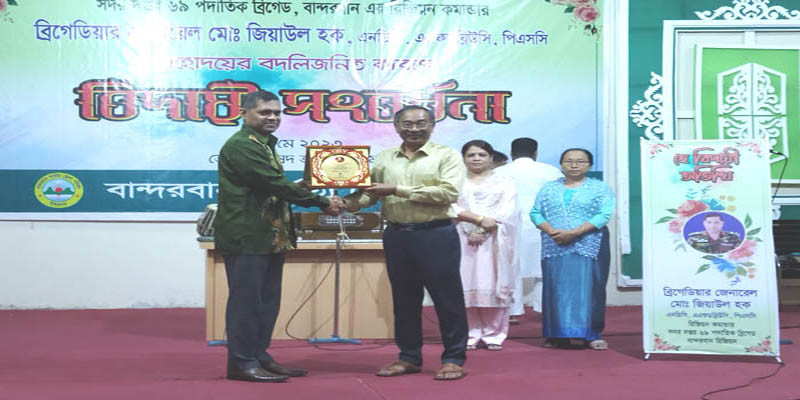 NEWS DESK
Brigadier General Ziaul Haque, the Region Commander of Bandarban, was honored with a farewell reception.
On the evening of Monday, May 15, the Bandarban Zilla Parishad hosted the reception at the Zilla Parishad meeting hall to mark the occasion.
Among the attendees were Lakshi Pad Das, a member of the Bandarban Hill District Council, AKM Jahangir, Chairman of Sadar Upazila Parishad, Angpru, Chairman of Bandarban Sadar No. 1 Rajbila Union Parishad, and Dr. Ang Chalu, Deputy Director of Bandarban Family Planning.
K Shai Hla, Chairman of Bandarban Hill District Council, praised Brigadier General Ziaul Haque for his compassion and eloquence.
He acknowledged the Brigadier's efforts in fostering harmony among the people of Bandarban and resolving numerous district issues.
Additionally, the Chairman mentioned that the Brigadier provided invaluable advice on maintaining peace and harmony among the 11 ethnic groups in Bandarban, a feat no previous commander had accomplished.
Expressing his thoughts, Brigadier General Ziaul Haque stated that he made concerted efforts to promote harmony among the 11 diverse ethnic groups, emphasizing that maintaining this harmony is crucial for peace.
He addressed the army officials, emphasizing the importance of establishing a strong bond with the local populace, as without such a connection, harmony cannot be sustained.
Public representatives of Bandarban, officials from public and private institutions, as well as senior army officers attended the farewell reception.