Former Refugee Puts Plight of Myanmar Children Center Stage at Miss Universe Pageant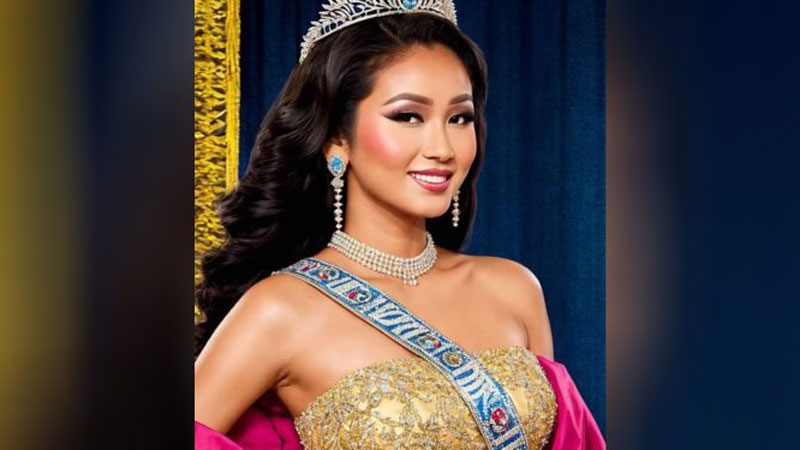 She lived at the refugee camp until she was 11, before immigrating with her family to Finland with the help of the United Nations High Commissioner for Refugees.
She recently talked to The Irrawaddy about her experience in the beauty pageant, but quickly turned the focus to refugees displaced by the ongoing fighting in Myanmar, saying: "My relatives have been hiding in forests. I want to see the best for Myanmar. I want to have a country that is safe and that values humans."
Please tell us about the pageant.
It has finished. I didn't win a prize. I'm back home, and I will go back to school. I made it into the top 10 finalists. I hadn't thought I would make to the top 10. I could express my thoughts [about refugees] on stage. I was very glad about that.
How did you happen to participate in the contest?
I was interested in it since I was young, but another reason was I wanted to speak out. I wanted to talk about myself, that I was once a refugee. There were a lot of difficulties participating in the contest. My background was different from the other contestants. I am from a refugee camp, and [as a result] I have problems with my confidence. I didn't have full self-confidence like the others. I felt utterly daunted during the competition. Other contestants did not have [the same] fears because they have been secure about themselves since they were young.
There were challenges as I had to speak on stage, and give interviews. There was also a charity project. On stage, I talked about my aim—that I want to help children displaced by fighting, children living at refugee camps.
Please tell us about your childhood at the refugee camp.
My parents had to flee the fighting in Karenni State. They arrived at the Thai border. I was born while they were fleeing. There was no doctor. My mother told me that I only weighed two kilos when I was born. I lived at a refugee camp near the Thai-Myanmar border for 11 years.
Things were difficult then. My childhood was not secure. We could not go out of the refugee camp. It was like a prison. Some people who went out of the camp were tortured if they were arrested. There were no human rights. We survived on food donated by others. We had no dreams. I arrived in Finland through the UN when I was 11. It was an opportunity to change my life. So, I want to do something for my people and my country.
Myanmar is facing a worse situation now. How do you feel about that?
I feel very sad. My relatives have been hiding in forests. I want to see the best of Myanmar. I want to have a country that is safe and that values humans.
I spoke out about my experiences on stage in Finland. I will continue to speak out through other mediums.
How do you want to see Myanmar?
Here, I am always asked where I come from. It is difficult to answer. I come from Myanmar. But, I don't have a Myanmar passport. I have never been to Myanmar. I am not a Thai citizen either. I got a Finland passport when I was 18. When I made a trip with that passport, I even cried on the airplane. I was once stateless.
Finland has accepted us and supported us to come this far. I am very grateful. Finland has returned my human values. As a human, I have value. As a woman, I have value. I became aware of my value only after I arrived in Finland.
What do you want to say about the children displaced by the ongoing fighting?
It is easy to notice how much children are cared for here, and how much effort is made for them. I have worked in childcare. The situation seems quite the opposite in Myanmar. I feel very sad. Children in Myanmar also have value. Adults must protect them as much as they can. They must support the children who are our future. It is the responsibility of adults to take care of children.
I want to urge displaced people in Myanmar to stay strong. We expats are speaking out for you. We are together. We can do anything if we work together. Though we are in a foreign country, we don't forget them. They are in our minds.
What are your plans for the future?
I am still studying. I am specializing in sociology. I want to do a Master's degree. My ambition is to work for children in Myanmar. I want to help children in Myanmar in cooperation with embassies. I have a big dream—to work for the UN.
I always want to go to Kayah State. I want to eat Myanmar food. My father always tells me to take care of our people and our country one day. We have to do a lot for the development of Myanmar and the children in Myanmar.
What do you want to say to Myanmar people who supported you in the pageant?
I am very grateful to them for their support. I pray for the children in Myanmar. I am determined to improve their lives.