France to 'intervene in' Rohingya genocide case at UN court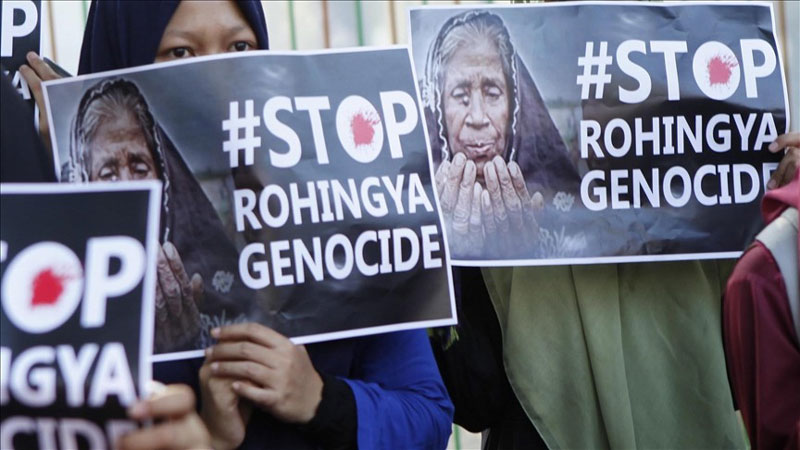 France will "intervene in" the Rohingya genocide case lodged with the International Court of Justice, announced a joint statement issued after visiting French President Emmanuel Macron met Bangladeshi Prime Minister Sheikh Hasina in Dhaka on Monday, Anadolu Agency reports.
"France announces its decision to intervene, along with other partners, in the Gambia vs. Myanmar case before the International Court of Justice, in support of the international efforts to ensure justice and accountability," read the joint statement issued by the Bangladeshi Foreign Ministry.
The International Court of Justice is hearing a case against Myanmar for the possible genocide of Rohingya by the authorities.
More than 1.2 million Rohingya Muslims forcibly displaced from Myanmar live in congested camps in Cox's Bazar, Bangladesh and Bhasan Char, an island in the Bay of Bengal.
Most of the refugees fled a brutal military crackdown in August 2017 in Rakhine, a state on the western coast of Buddhist-majority Myanmar.
Earlier in 2017 following the Myanmar crackdown on Rohingya, Macron had branded the killing of Rohingya Muslims in Myanmar as "genocide."
"France will work with its partners at the UN Security Council to take the initiative to get the UN to condemn the continuing genocide and ethnic cleansing," he had said.
France also commended Bangladesh's generosity in providing shelter and humanitarian support to forcibly displaced Rohingyas from Myanmar over the years.
"Both countries reiterate their commitment to maintaining the situation and repatriation of Rohingya high on the international agenda and the need to create conditions inside Myanmar that allow for their voluntary, safe, dignified, and sustainable return to their ancestral homeland at an early date," the statement read.
Paris also announced an additional contribution of € 1 million ($1.07 million) to the World Food Program's activities in Rohingya camps in Bangladesh.
Macron left Dhaka on Monday after paying a two-day visit to Bangladesh, the first such visit from France in the last 33 years, to further intensify the trade and diplomatic relations.
Earlier, former French President Francois Mitterrand visited Bangladesh in 1990.