Hamas-Israel 'war': 250 killed in Israel; 232 in Gaza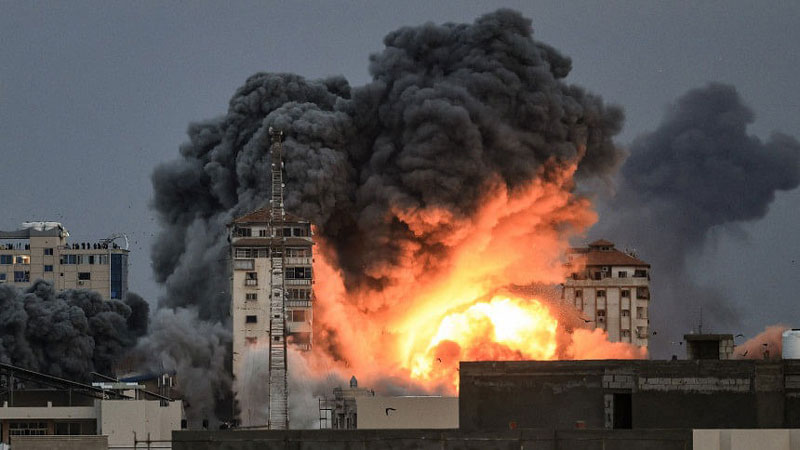 Palestinian Islamist group Hamas took Israel by surprise today (Oct 7) with the biggest attack for decades, a sudden assault by gunmen who crossed into Israeli villages, killed dozens of people and brought hostages back into the Gaza Strip, global news agencies report.
Israel responded with massive air strikes deep inside the coastal enclave, killing scores and wounding hundreds of people and vowing unprecedented retaliation.
BBC quoting Israeli media reported that at least 250 people were killed in Israel. The health ministry has said that another 1,452 people have been taken to hospital, with 18 in a critical condition and another 267 described as severe.
Hospitals in both southern Israel and Gaza have been inundated with casualties. Palestinian health officials say 232 people have died in Gaza and another 1,790 are wounded.
"We are at war," said Israeli Prime Minister Benjamin Netanyahu as the military launched a series of air strikes against targets of Iran-backed Hamas in the blockaded coastal enclave where black smoke billowed into the sky.
"The enemy will pay an unprecedented price," the right-wing veteran Israeli premier vowed after Hamas launched its first such combined air, sea and ground offensive, half a century after the outbreak of the 1973 Arab-Israeli war.
The Islamist group started the surprise attack around 6:30am (0330 GMT) with thousands of rockets aimed as far as Tel Aviv and Jerusalem, some bypassing the Iron Dome defence system and hitting buildings.
In southern Israel near Gaza, bodies of Israeli civilians lay strewn across a highway in Sderot, surrounded by broken glass. A woman and a man were sprawled out dead across the front seats of a car. A military vehicle drove past the bodies of another woman and a man in a pool of blood behind another car.
Israeli security forces said there were 21 active scenes of gunbattles with infiltrators, and its navy had killed dozens more Palestinians attempting to infiltrate by sea.
In Gaza, black smoke and orange flames billowed into the evening sky from a high rise tower hit by an Israeli retaliatory strike. Crowds of mourners carried the bodies of freshly killed militants through the streets, wrapped in green Hamas flags.
Israeli planes also bombed the house of Hamas Gaza chief Yehya Al-Sinwar in Khan Younis in the southern Gaza Strip, Hamas media said, with no reports of casualties.
Israeli army Major General Ghasan Alyan warned Hamas had "opened the gates of hell" and would "pay for its deeds".
The army said its forces were battling Palestinian militants on the ground in several locations near the Gaza Strip, in an operation labelled "Swords of Iron".
Hamas deputy chief Saleh al-Arouri told Al Jazeera that the group was holding a large number of Israeli captives, including senior officials. He said Hamas had enough captives to make Israel free all Palestinians in its jails.
The military confirmed Israelis were being held captive in Gaza and soldiers have been killed, according to N12 and Reshet 13 news outlets.
The escalation follows months of rising bloodshed, mostly in the occupied West Bank, and tensions around Gaza's border and at contested holy sites in Jerusalem.
"This is the day of the greatest battle to end the last occupation on earth," Hamas military commander Mohammad Deif said, announcing the start of the operation in a broadcast on Hamas media.
Hamas labelled its attack Operation Al-Aqsa Flood and called on "resistance fighters in the West Bank" as well as in "Arab and Islamic nations" to join the battle.
It claimed to have fired more than 5,000 rockets. Army spokesman Richard Hecht said Israel had counted at least 2,200 rockets aimed at its territory.
Air raid sirens wailed across southern and central Israel, as well as in Jerusalem, where AFP journalists heard multiple rockets being intercepted by air defence systems.
In Tel Aviv, an AFP photographer saw a gaping hole in a building, with residents boarding a bus to seek safety in a hotel.
Rocket impacts left cars burning beneath residential buildings in the Israeli city of Ashkelon, north of Gaza.
Netanyahu vowed that the Israeli response would be of "a magnitude that the enemy has not known".
Hamas took control of Gaza in 2007, leading to Israel's crippling blockade of the impoverished enclave of 2.3 million people.
Israel and Hamas have since fought several wars. The last major military exchange, in May, killed 34 Palestinians and one Israeli.
In Gaza, people rushed to buy supplies in anticipation of days of conflict ahead. Some living near the Israeli border evacuated their homes and headed for shelters.
At Gaza City's Al-Shifa hospital, an AFP journalist saw eight bodies in the morgue, while another reporter witnessed the funeral of a ninth person killed in Khan Yunis in southern Gaza.
In Israeli-annexed east Jerusalem, some Palestinian residents cheered and blew their car horns as sirens blared.
Western capitals roundly condemned the attacks by Hamas, which the European Union, United States and Israel consider a terrorist group.
UN Security Council chair Brazil said it would call an emergency meeting today.
But Hamas drew support from other foes of Israel, with Iran's supreme leader declaring he was "proud" of the Hamas action.
Lebanese militant group Hezbollah, which fought a devastating war against Israel in 2006, hailed the "heroic operation on a grand scale".
US President Joe Biden was briefed on the "appalling Hamas terrorist attacks," said the White House, stressing that Washington would ensure Israel has the means to defend itself.
European Commission President Ursula von der Leyen called the attack "terrorism in its most despicable form".
UN Middle East peace envoy Tor Wennesland said the assault had led to "a dangerous precipice" and called for all sides to "pull back from the brink".
Violence between Israel and the Palestinians has been surging since early last year.
Before yesterday's clashes, at least 247 Palestinians, 32 Israelis and two foreigners had been killed so far this year, including combatants and civilians on both sides, according to Israeli and Palestinian officials.
The vast majority of fatalities have occurred in the West Bank, which has been occupied by Israel since the 1967 Arab-Israeli War.