Hope Field Hospital closure leaves pregnant Rohingya women in limbo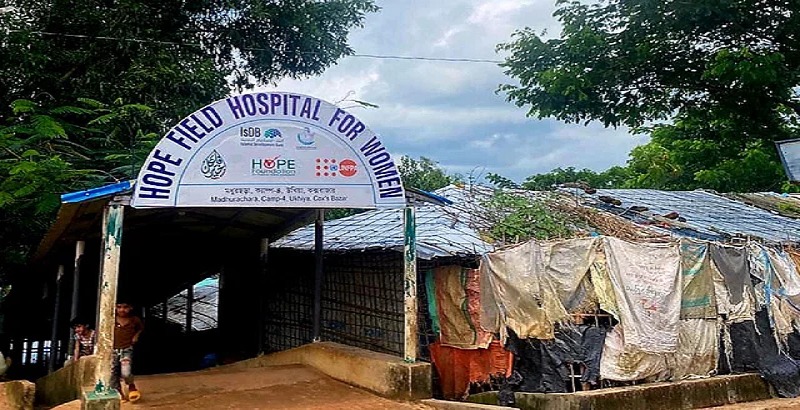 STAFF REPORTER
The 100-bed Hope Field Hospital for Women at the Madhurchhara Rohingya Refugee Camp in Cox's Bazar has been closed since the first week of September, leaving millions of Rohingya women in over 10 shelter camps in Ukhiya deeply concerned.
The closure of the hospital has not only resulted in the loss of jobs for at least 300 personnel, including doctors and nurses but has also ignited a movement demanding unpaid salaries for the months of July and August. The Hope Foundation attributes the cessation of hospital services to the termination of financial assistance by the United Nations Population Fund (UNFPA).
Last Thursday, September 21, during an afternoon visit to the hospital, several pregnant women, including Gol Bahar (25) from the C-4 block of the Madhurchhara shelter camp and Rokeya Begum (18) from the neighboring Lambashia shelter camp, were found awaiting medical attention.
One pregnant woman expressed her anxieties about giving birth in the absence of hospital services, as traveling the 80 kilometers to Cox's Bazar for medical care is beyond her means.
Further highlighting the dire situation, two Rohingya women, Taslima Begum (28) and Sharifa Akhtar (23), who had undergone childbirth surgeries at the hospital just two months earlier, are now deprived of essential medical care due to the facility's closure.
In one corner of the hospital stairs, a six-month pregnant Rohingya girl is unable to access medical services due to the absence of a doctor.
Rohingya leader Kamal Uddin voiced his concerns, noting that approximately 75,000 Rohingyas reside in this shelter, with over 33,000 of them being pregnant. The hospital played a critical role, treating 90% of pregnant and delivery patients, but its sudden closure has left hundreds of thousands of women in dire straits. Many are now compelled to resort to home births with the help of midwives, endangering their lives.
Shaukat Ali, the hospital supervisor and senior manager of the Hope Foundation, explained that the cessation of financial assistance from UNFPA has led to the suspension of deliveries and surgeries for pregnant women in the hospital. However, healthcare services continue to be available in the hospital's outpatient and emergency departments, which also offer training for pregnant women, mental health patients, and adolescents.
Ali added that 182 hospital employees have lost their jobs due to the project's closure, including 26 doctors, 24 nurses, 19 midwives, and 9 medical assistants, with the remainder being third and fourth-class employees.
According to information provided by hospital authorities, over the last six years, the hospital served 472,370 people, including 7,528 who received delivery-related services. Among them, 8,063 experienced normal births, and 3,465 underwent surgeries. Additionally, the hospital provided prenatal care to 60,919 children and newborns and postnatal care to 21,813 women. All healthcare services were provided free of charge. The hospital boasts two state-of-the-art operating theaters, labs, ultrasound, X-ray, and ECG equipment.
Cox's Bazar Civil Surgeon Bipash Khisa expressed concerns about the closure's impact on maternal and child health services, emphasising the hospital's role as a dependable facility for normal and cesarean deliveries for high-risk pregnant women. Pregnant mothers in severe physical condition were referred to this hospital from various hospitals and clinics. In addition to Rohingyas, local residents of Ukhia and Teknaf also relied on this hospital for maternal and child health care, as well as treatment for COVID-19, dengue, cholera, dental issues, and mental health. Unfortunately, the crisis began when UNFPA discontinued its financial support on August 1.
Civil Surgeon Khisa sent a letter on August 5 to the Director General of the Health Department, highlighting these issues and recommending the swift resumption of medical services at the hospital. However, no instructions have been received in response.
Mohammad Rafiqul Islam, the Family Planning Officer of Teknaf Upazila, said due to the closure of the Hope Foundation project, doctors, medical assistants, paramedics, lab technicians, pharmacists, midwives, nannies, and night watchmen from various health centers in Hoikang and Sabrang Union Parishads in the upazila were withdrawn. This disruption also affects health center services. On September 17, he sent a letter to the deputy director of the health department in Cox's Bazar, urging the rapid resumption of healthcare activities in the centers.
When asked about the suspension of financial assistance to the Hope Foundation, UNFPA Representative in Bangladesh Christine Blokhas clarified, "UNFPA was collaborating with Hope Foundation in the Rohingya camps and their surrounding local communities. Recently, our contract with Hope Foundation expired. Many of UNFPA's partners are working to serve women and girls in Cox's Bazar. We are closely coordinating with all those partners to ensure there is no gap in service delivery."
A spokesperson for the healthcare workers who lost their jobs mentioned that at least 300 of them had been employed by the Hope Foundation for 4-6 years. They protested against the abrupt termination without receiving their July and August salaries. Later, the Hope authorities informed them in writing that they would be paid for two months' salary by October 15.
Md. Zahiduzzaman, the country director of the Hope Foundation, revealed that the 100-bed Hope Field Hospital and the health centers in Ukhia and Teknaf had been funded by UNFPA for six years. However, on July 19, UNFPA expressed its disinterest in continuing the collaboration with the Hope Foundation, resulting in funding cessation on August 1. UNFPA has since agreed to provide financial assistance for the months of July and August, mediated by the Refugee Relief and Repatriation Commissioner (RRRC), with salaries for July scheduled for September 30 and August salaries set for October 15.