"I will miss the most when I leave Dhaka": British High Commissioner Robert Chatterton Dickson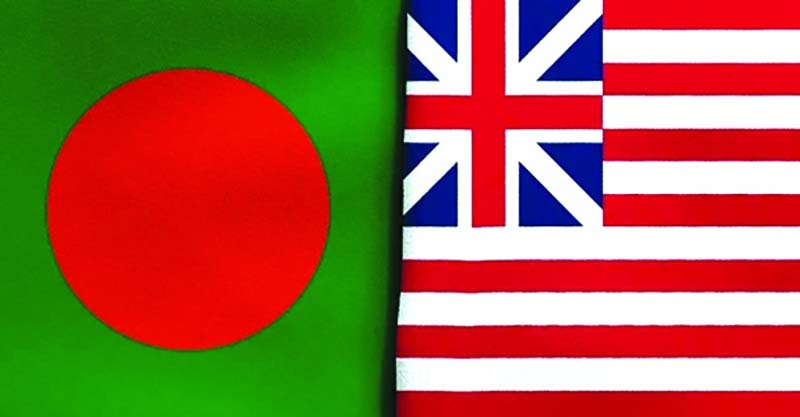 RABB MAJUMDER
Robert Chatterton Dickson, a seasoned diplomat, has been the British High Commissioner in Dhaka since March 2019.
According to UK website report, Robert served as the Foreign and Commonwealth Office's Additional Director for the Western Balkans Program from September 2018 until January 2019. He headed the Secretariat team that supported the National Security Council (NSC) and the National Security Adviser from August 2015 to August 2018 while working as a Director in the National Security Secretariat (NSS) of the Cabinet Office. In addition, he had main responsibility in NSS for the cross-Government Conflict, Stability and Security Fund and Prosperity Fund. He was also in charge of coordinating policy on a variety of foreign issues.
During a time of political and military turmoil in Afghanistan, Robert worked for the British Embassy in Kabul for two years between 2013 and 2015 as the Deputy Ambassador and Chargé d'Affaires. He represented the United Kingdom's economic, commercial, and political interests in 13 states of the US Midwest while serving as HM Consul General in Chicago from 2010 to 2013. From 2007 to 2010, he served as the FCO Counter Terrorism Department's director. From 2004 to 2007, he served as the British ambassador to the Republic of Macedonia.
British High Commissioner Robert Chatterton Dickson
Prior to joining the FCO, Robert worked at the British embassies in Manila and Washington (first as the ambassador's private secretary and later as the press officer) (as Political and Press Officer). He has also worked at the FCO in London on matters like nuclear arms limitation, UN Peacekeeping, NATO, and Iraq. Robert worked as an analyst and UK and global portfolio manager for the asset management division of Morgan Grenfell & Co, a merchant bank in the City of London, before joining the FCO in 1990.
Teresa Albor, an artist who was born in the US, is married to Robert. He has two kids – a stepson, and a stepdaughter.
The UK High Commissioner Robert Chatterton Dickson, who is respected for being calm, down to earth, and close to Bangladesh, spoke with Security World about a variety of topics, including the divisive Rohingyas, security, economic investment, and bilateral relations between the two nations. The following are snippets from the interview:
How do you see current relations between the UK and Bangladesh?
The UK's historic partnership with Bangladesh is a unique and valued relationship, cemented by people-to-people connections and deep cultural, trade and economic links. As Bangladesh continues to develop and broadens its ambitions through graduation from Least Developed Country status in 2026, we are proud to stand as a close partner, strengthening ties and building on the values and outlook we share.
We also look forward to continuing to build on the close economic partnerships between Bangladesh and the UK, including through trade, private sector investment and increasingly through British Investment Partnerships, the UK's development finance institution.
How do you evaluate the UK – Bangladesh defence and security dialogue? How can we improve existing relations?
The UK and Bangladesh share many defence objectives, including the commitment to peace and security that Bangladesh demonstrates better than most through its commitment to the UN, most visibly through its leading contribution to the UN's peacekeeping operations.
Our first Defence Dialogue, held earlier this year, confirmed familiar areas where good defence cooperation is already taking place, and suggested new areas of shared interest including issues such as cyber security.
As we see with our permanent naval presence in the region, the UK is increasing its effort in the Indo-Pacific, including the Bay of Bengal and Bangladesh's neighbourhood. We are keen to work more with established and trusted partners, including Bangladesh, in support of regional peace and stability.
How do you look at Bangladesh's Rohingya issue? Will it be a threat to regional and international security? 
It is difficult to see lasting regional peace and stability unless the Rohingya crisis and the situation in Myanmar are addressed. We are deeply concerned by the increasing violence in Myanmar. In Rakhine state, remaining Rohingya communities are caught in the crossfire of recent fighting between the Myanmar Armed Forces and Arakan Army. In recent weeks we have seen instances of this violence crossing the border, resulting in loss of life in Bangladesh.
We will use all available opportunities, including at the G7 and with our ASEAN partners, to push for a long-term solution to the crisis and its root causes. We will also use our role as penholder to keep the situation in Myanmar on the UN Security Council's agenda, and explore all available Council tools.
Globally, humanitarian funding is under unprecedented strain. To help the refugee context in Bangladesh, we advocate for increased substantive livelihoods opportunities for the Rohingya in Cox's Bazar. This would help to improve their levels of self-sufficiency and reduce their reliance on food aid.
We want to help the Government of Bangladesh make Bhasan Char a success. We are, however, concerned about the availability of healthcare on the island, and rising levels of malnutrition. We would advocate for a pause in relocations of refugees to the island to consolidate the development done to date and help to make the project a success, including by providing for more livelihood opportunities.
Would you please explain your assistance for the Rohingya refugees?
In addition to our international advocacy work, whilst the Rohingya remain in Bangladesh, we will continue to support them with humanitarian relief.
We have provided £340m since 2017 to support the Rohingya and neighbouring host communities in Bangladesh. This has included food, water, shelter, healthcare, education and protection services. Our assistance has focussed on the communities in Cox's Bazar, as well as a contribution to support refugees on Bhasan Char.
We are grateful to the Government and people of Bangladesh for all the support they have provided, and to our UN and NGO partners for their continued work to deliver assistance on the ground.
What investment opportunities do you foresee for the UK and Bangladesh; and how do you evaluate economic relations between the two nations?
Economic relations between the UK and Bangladesh have been productive and stable since the UK recognised Bangladesh as a country in February 1972. Bangladesh is an important economic partner for the UK with a strong relationship in terms of trade, investments, and development assistance.
The UK is the third largest export market for Bangladesh and the second largest source of foreign direct investments. Bangladesh's exports to the UK were 4.8billion USD in the financial year 2021-22. The UK is one of the main export destinations for Ready-Made Garments, agricultural and agro-based products, and leather products.
Bangladesh has long benefitted from duty-free access to the UK market on everything but arms and will continue to do so until it graduates from Least Developed Country (LDC) status. Under the UK government's new Developing Countries Trading Scheme, Bangladesh will retain duty-free market access for 85% of goods, including Ready-Made Garments, after LDC graduation. This will help Bangladesh consolidate its position as one of the leading suppliers to major British clothing retailers.
Some of the UK's largest and best-known multinationals, as well as many small and medium enterprises, have also been operating in Bangladesh for decades. UK businesses operate in many sectors in Bangladesh, including the financial sector, consumer goods, education, manufacturing, energy, and the services industry.
While the economic ties between our countries are already very strong, removing barriers to trade and investment in Bangladesh will further strengthen the relationship. Bangladesh could implement regulatory and policy reforms to attract more UK investment into the country. The UK supports Bangladesh in the areas of investment climate, skills development, and economic policy development, all of which are expected to contribute to better policy formulation and investment attraction. A conducive business environment, improved labour standards, and better governance would make Bangladesh a great place to do business.
Do you have any message on the celebration of Bangladesh's 50th anniversary? 
Our relationship is rooted in history. The UK was the first country that Bangabandhu Sheikh Mujibur Rahman visited in January 1972, before his homecoming. The UK was also one of the earliest countries to recognise Bangladesh's independence and has ever since been a proud friend of Bangladesh. Following Bangladesh's 50th anniversary as an independent nation, the UK looks forward to continuing to extend our bilateral and people-to-people relationships for the next 50 years and beyond.
We look to Bangladesh to play a positive role in the rules-based international system; and remain a stable, reliable and human rights compliant partner of the UK. As a friend of Bangladesh, the UK is a strong supporter of plural, contested, fair and transparent elections and political process to support accountability, reflecting our shared Commonwealth values.
We will continue to work with Bangladesh to reduce extreme poverty; tackle the impact of climate change; recover from the Covid-19 pandemic; promote gender equality through educating girls, empowering women and ending violence against women and girls; promote freedom of expression for Bangladeshi citizens and protect the rights of the marginalised; support safe and voluntary return of the Rohingya refugees; and increase UK-Bangladesh prosperity through green and private sector-led growth and enhanced trade and investment.
Reflections on HC's time in Bangladesh?
I have had a wonderful four years in Bangladesh, which has gone too quickly. Despite the difficult times we all went through in the first years of the pandemic, there is nowhere else I would rather have been. I was deeply impressed by the fortitude of the Bangladeshi people, and by the work of the Government of Bangladesh to keep the country's forward momentum on track.
During my time here I have travelled the length and breadth of the country, and it is the resilient, hospitable people of Bangladesh I will miss the most when I leave Dhaka. Everywhere people have been so warm and welcoming, and I look forward to following the progress of your great people into the future. Thank you to everyone in Bangladesh for making me so welcome.