Multiple 'torture cells' used by ARSA to torture Rohingyas interested in repatriation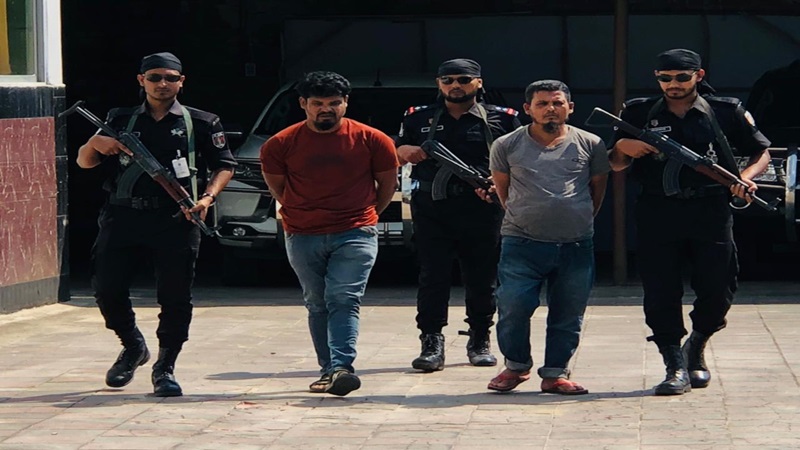 COX'S BAZAR CORRESPONDENT
The Arakan Rohingya Salvation Army (ARSA), a terrorist group from Myanmar, operates several torture cells in the Rohingya camp located in Cox's Bazar. These cells primarily target Rohingyas keen on repatriation. Within these cells, many Rohingyas, including community leaders, are tortured under the guise of 'arbitration.' These cells have also been havens for various criminal activities such as murder, kidnapping, ransom, robbery, extortion, drug-related offenses, and dominance within the Rohingya camp.
Late on Thursday night, October 26, RAB discovered one such torture cell nestled in the Madhurchhara Hills of the Kutupalong area in Ukhia Upazila.
The top two commanders of ARSA were arrested during the raid, and both domestic and foreign firearms, ammunition, and other equipment were seized. One of these commanders oversees the torture cell and has been implicated in numerous high-profile murders near the Rohingya camp. This includes the assassination of a senior DGFI intelligence officer during a joint law enforcement operation at the Ghumdhum border in Bandarban district last November.
Commander Khandaker Al Moin, director of the law and media wing at RAB headquarters, shared this information during a press conference held at RAB-15 Cox's Bazar Battalion office on Friday, October 27.
The detainees are identified as Salman Murabbi (50), son of the late Nuruzzaman, a resident of Rohingya camp number 13 in Ukhia upazila, and Yunus (24), son of Syed Hossain from Rohingya camp number 5.
RAB has indicated that Salman, a top commander for ARSA and head of ARSA's Ulama body and torture cells, was directly involved in various high-profile murders near the Rohingya camp. Yunus oversaw the discovered torture cell and was in charge of Salman's security detail.
Items recovered during the raid included a 9 mm foreign pistol, ammunition, several firearms, an axe, multiple knives, a wooden and steel stick, a saw, an iron rod and other miscellaneous tools.
Commander Khandaker Al Moin stated that RAB has been monitoring various criminal activities orchestrated by the Rohingya terrorist organization ARSA. They plan to conduct several operations based on their findings. RAB has already detained 73 active ARSA members, including top-tier personnel like their military commander, gun commander, finance secretary, and Arsa chief Ataullah's personal assistant. Intelligence operations are ongoing based on information provided by these detainees.
The recent raid on Thursday night was prompted by information from Salman Murabi, apprehended at Rohingya camp number 4. This intelligence led to the discovery of the torture cell in Madhurchhara hill and subsequent arrest of Yunus, followed by the recovery of weapons and equipment.
Salman Murabi relocated to Bangladesh in 2017, taking residence in camp number 13 of Thaingkhali. He joined ARSA in 2018 through connections with senior members. Currently, he leads the Ulama body of ARSA. Under his leadership, a group of 10-12 members was organized, targeting and coercing Rohingyas into joining ARSA.
Post-arrest, Commander Khandaker Al Moin revealed that ARSA, under the direction of Chief Ataullah in 2019, set up several torture cells both within the Rohingya camps and nearby regions. The aim was to maintain ARSA's dominance and facilitate its terrorist activities. The Rohingya camp is now segmented into zones led by various ARSA commanders, who oversee these torture cells. RAB is actively working to locate these cells.
The arrested individuals will soon be handed over to the Ukhia police station for legal proceedings, he said.