Myanmar shelling along Bangladesh border continues; BGB patrols reinforced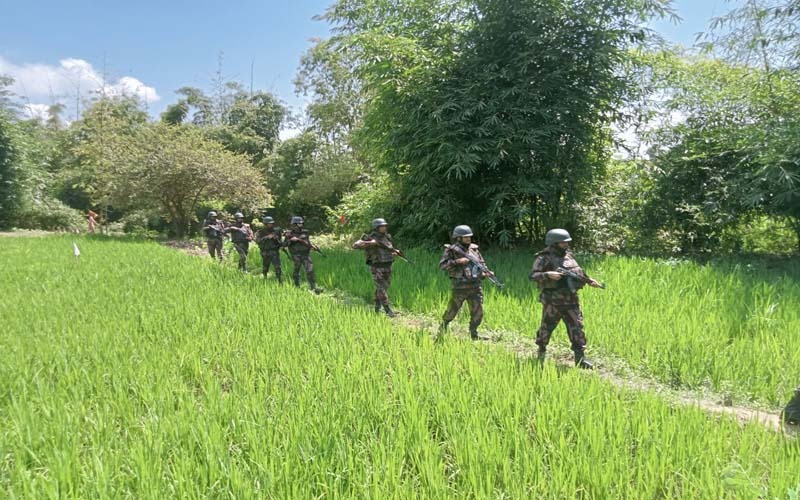 NAIKHONGCHHARI CORRESPONDENT
Wednesday morning, it was exactly 8:49. Myanmar's security forces fired two mortar shells, one from Myanmar's Tumbru Right Camp at Bangladesh's Pillar No. 34 and the other from Myanmar's Kokkotoingya Camp at Bangladesh's Pillar No. 37. The people of Tumbru were scared when the first mortar shell went off on Wednesday. At 1:48 and 1:52, the Myanmar forces fired two more mortar shells. So, the sound of gunfire in the 3 km stretch of Bangladesh that borders Myanmar's Tumbru Right Camp and Kakkadhangya Camp panicked about 8,000 Bangladeshis. At the same time, that sound scared 4,500 Rohingya people who lived in the area between the two countries. Because of this, people have seen their kids jumping with fear.
This is what Rohingyaman Abdul Majed, who lives in a refugee camp on "no man's land," Badialam, who lives in the Tumbru Kona neighborhood, and Shaukat Ali, who lives in the Banshfarhi neighborhood, said to talk about the border on Wednesday.
They also said that mortar shells wake up them every day at 6 a.m. But at 3:30 a.m. on Wednesday, the sound of mortar shells woke them up.
A BGB source said that the border patrol has been reinforced after a mortar shell fired from Myanmar killed Iqbal, a Rohingya youth from No-Land, Man's, and hurt several others, including 11-year-old Sadia Mani.
And the border is still closed, the source said.
Jahangir Aziz, who is in charge of the Ghumdhum Union Parishad, said that the shelling on the other side of the border is very frightening.
On Wednesday, though, there were a lot fewer shootings than on other days when there were a lot of them. On some days, one could hear a gunshot every few minutes, he said.
After a long time, shots are being fired on Wednesday, Mr Aziz added.