Myanmar team visits Rohingyas again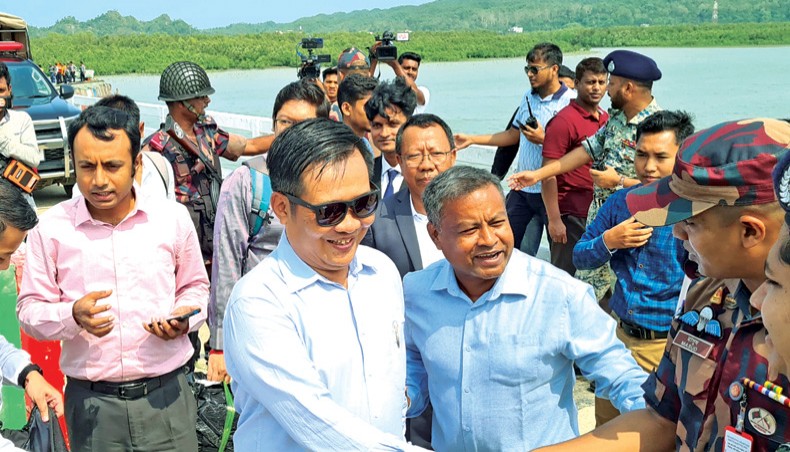 NEWS DESK
A Myanmar delegation arrives in Teknaf on Thursday to meet with Bangladeshi officials as part of efforts to revive a long-stalled plan to return the stateless Rohingyas to their homeland Myanmar. — AFP photo
The Rohingya community members on Thursday said to a Myanmar delegation that they wanted citizenship rights and ethnic identity before being repatriated to the Rakhine State under a 'pilot project'.
A 16-member delegation of Myanmar's immigration department held talks with the displaced community people for several hours in Cox's Bazar and left later in the day.
In their 'come and talk-visit' held in Shalbagan in Teknaf, over 250 Rohingyas joined the meeting in presence of Bangladeshi officials.
The Rohingyas vented their anger on the Myanmar delegation, saying that they wanted their original land back and sought equal rights like other ethnic people in Myanmar.
Aung Myo, social welfare minister for Rakhine State, headed the follow-up meeting as a sequel of first such meeting held in March.
Aung Myo also represented the Rakhine State's immigration and population department.
The Myanmar delegation replied to different questions of the persecuted Rohingyas, saying that the latters would be given a 'national verification card' for their repatriation to the Rakhine state.
The delegation added that it would be difficult for them to recognise Rohingyas formally but they would be allowed to do higher studies, and provided with medical facilities.
Myanmar officials said that henceforth, there would be no restriction on marriage on the part of Rohingyas who earlier needed permission from the authorities.
Shah Alam, a Rohingya, said that making repeated visits won't be necessary; it would be better to grant them citizenship and allow them to return to their original land.
Myanmar is now trying to repatriate about 1,200 of an estimated one million Rohingyas as part of a mooted pilot scheme.
Mohammed Mizanur Rahman, Bangladesh Refugee Relief and Repatriation Commissioner in Cox's Bazar, said that some Rohingyas expressed negative impressions of the repatriation while some were positive.
Those who viewed it positively would be repatriated soon, he hoped.
Following the meeting, the foreign ministry's Myanmar wing director general, Mainul Kabir, said that they started the repatriation process after informing the United Nations and internationally important others of the matter.
Many Rohingyas stuck posters containing their four-point demand ahead of the Myanmar delegation visit.
The four include seeking national identification and citizenship rights, return of their original land or properties, rights to livelihood and movement, and security assurance.