Over 500 Bangladeshi families inside Rohingya camp fear for losing homes, lands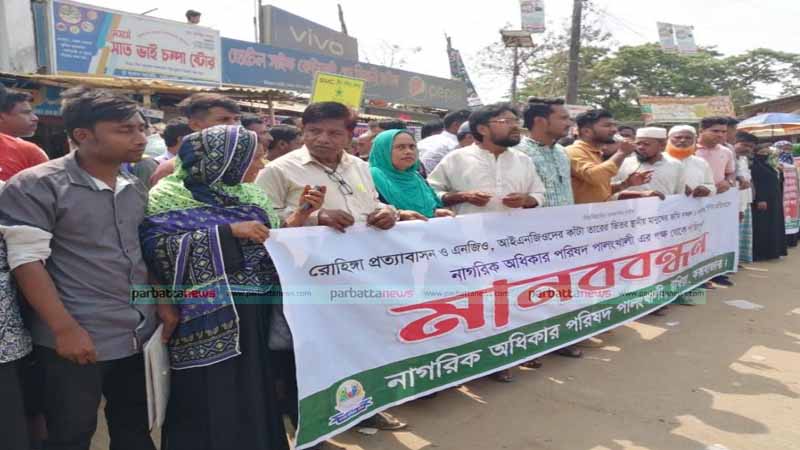 Ukhia Correspondent:
More than 500 Bangladeshi families living inside a Rohingya camp in Cox's Bazar's Ukhia sub-district are in fear of losing their homes and lands.
They have expressed such fear as a vested group is trying to evict them by erecting houses on their land.
Palangkhali Nagarik Odhikar Parishad, a local citizens' rights platform, protested such occupation bid by forming a human chain at Thaingkhali Station on Thursday morning.
Speaking at the human chain, Palangkhali Union Parishad's Chairman M Gafur Uddin Chowdhury said the Bangladesh government gave shelter to the Rohingya fleeing the Myanmar persecution in 2017.
Palangkhali people have been affected by this the most, he said.
Later when local and international NGOs came in, they even deprived the Palangkhali people of jobs that could have made their lives a bit better, but they gave those jobs to Rohingya people in the name of serving them, the chairman said.
Locals have lost their trust in the Armed Police Battalion or APBn tasked with maintaining law and order in the camp due to immoral, oppressive and torturing activities, he said.
Mr Chowdhury urged the government to put the army in charge of the camp in order to improve law and order there. Otherwise, he fears, criminal activities would gradually increase inside the camp.
At the same time, he called for starting the Rohingya repatriation process immediately.
Former panel chairman of Palangkhali Union Parishad Mozaffar Ahmed and member Misbah Uddin Selim, among others, spoke at the human chain moderated by the Odhikar Parishad's Joint Convener Ziaul Karim Riad.