Post-Coup Myanmar: 29 killed in army strike on camp for displaced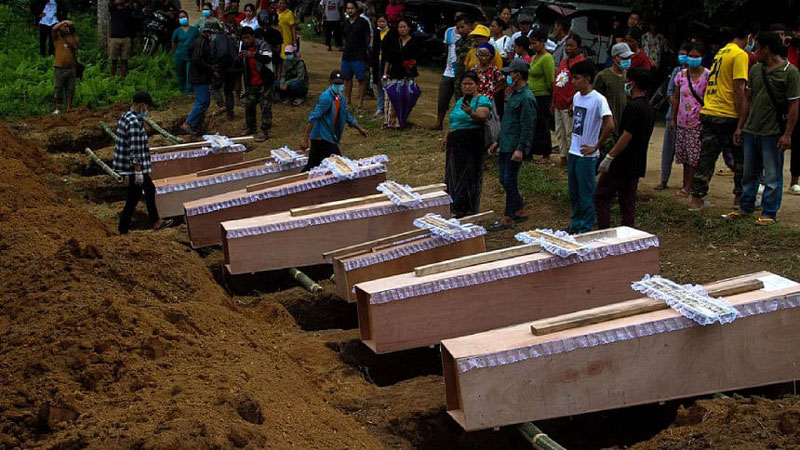 Twenty-nine people were killed and dozens wounded in a military strike on a camp for displaced people in northern Myanmar, a spokesman for an ethnic rebel group that controls the area told AFP on Tuesday.
Myanmar's junta has been accused of carrying out multiple bloody attacks on civilian targets as it struggles to quell resistance to its 2021 coup.
The latest attack happened around 11:30 pm on Monday (1700 GMT), Colonel Naw Bu of the Kachin Independence Army (KIA) told AFP.
"We found 29 dead bodies including children and older people… 56 people were wounded," he said, adding they were investigating what kind of strike had hit the camp.
"We did not hear any aircraft," he noted, saying they were looking into whether the military had used a drone to target the camp near the town of Laiza, on the Chinese border.
Local media images purporting to show the aftermath of the strike showed rescuers working by torchlight to recover bodies from wooden debris.
At least 10 bodies were shown laid out on towels and tarpaulins on the ground.
Colonel Naw Bu said that 42 people were being treated at a hospital near Laiza, which is located in Kachin state.
Junta spokesman Zaw Min Tun said the military was "investigating" the reports. He said the military believed a store of bombs belonging to the rebels in the area had caused an explosion, without giving evidence.
More than 10,000 people have been displaced in Kachin state since the military's ousting of the government of Aung San Suu Kyi in 2021.
The coup sparked huge protests and a bloody crackdown on dissent that has seen tens of thousands arrested and more than 4,100 killed, according to local monitoring group Assistance Association for Political Prisoners (AAPP).
The KIA controls swathes of Kachin state — home to the world's largest jade mines — and has clashed with the military for decades.
The region has seen heavy fighting in the wake of the 2021 putsch, with the junta accusing the KIA of arming and training the newer People's Defence Forces that have sprung up to battle the junta.
In May 2021, the KIA said its fighters had downed a military helicopter gunship during fierce clashes near the town of Momauk in the far north.
Myanmar military air strikes on a concert held by the KIA in October last year killed around 50 people and wounded 70.
The junta said reports that that air strike killed civilians were "rumours".
The United Nations' Office of the High Commissioner for Human Rights (OHCHR) had found a "seemingly endless spiral of military violence," it said in its latest report on the country.
Through interviews and open source data it had found "a sharp rise" in serious human rights violations "including the increase… of incidents in which 10 or more individuals were killed".